Roots of Being is reader supported. When you buy through our links, we may get a commission.
Making Kava the traditional way is a chore, and is a huge barrier to encouraging new users to try Kava tea. The process is difficult, messy, and truly not fun. However, a very clever invention by the folks at Kavafied has greatly simplified the process of Kava tea preparation. Clearly inspired by tea infusers, the Aluball system [Amazon Link] uses a sizable stainless steel mesh ball, placed inside of a protein shake-like container, to make a great Kava! Quick, easy, and virtually no mess.
In this article, I do an Aluball review, look at the pros and cons, and make my recommendation.
The word "alu" is Tongan for "to go", and is totally appropriate for this easy to use Kava making system. This design is a huge help to those who prefer to use traditional non-micronized Kava root for their tea, but who also hate the process of making Kava the traditional way. It is a breath of fresh air to the Kava market, and will likely open the doors for many new users to experience the benefits Kava has to offer.
---
Aluball Review
What's Included
Stainless Steel Mesh Ball Strainer
Plastic Shaker
Plastic Lid with Screw-On Cap
New version includes better cap that doubles as a cup!
The Aluball package contains all you need to make a shell of traditional style Kava Kava, without any need for strainers, kneeding, blending, and all the rest. Kava is placed in the ball, water (or other liquid) is put into the cup, shake shake shake, and drink. Everything you need to make a Kava tea is here, except the Kava!
---
About the Aluball
The Aluball was invented by a football player for the Tampa Bay Buccaneers (and Stanford engineer — an interesting combination!) named Matt Masiflio. He loved the muscle-relaxing effects of Kava, but could not find the time to make a traditional cup of kava after football practice for himself and his teammates.
Additionally, he could see that new users would be turned off by the frustrating requirements that come with making a traditional Kava, and felt that a better system is needed. With that in mind, he designed the Aluball in the hope of simplifying and demystifying the Kava process.
Well I agree, and he hit on a significant insight.
---
How the AluBall Works
With its stainless steel mesh design, the aluball acts as a Kava infuser, much the way tea bags and tea infusers work in typical tea infuser cups. However, the nature of kava is that it must be agitated significantly in order to extract the kavalactones from the root powder. This is typically accomplished by using a Kava strainer bag, and squeezing and kneeding for several minutes. Its a messy hassle, and I'm glad that I don't have to do it anymore!
Instead of the usual kneeing process, the Aluball extracts Kava using a shaking process, which is way easier. Once the Kava is placed in the ball, typically I'll shake it for about a minute, maybe two, until I've extracted as much as I can for that batch. This is noticeably less time than the 10 minutes I would usually take to kneed Kava in a strainer bag, and way less messy. It is also pretty Kava-efficient, and I find that I don't use as much Kava per serving as I did previously, probably because I would get tired of blending and kneeding before all of the kavalactones were extracted.
Extra Aluballs
Many people use multiple Aluball strainer balls inside the same container to make a more potent kava. Add a second ball to the container, and you can make even more potent kava at a very rapid pace!
Put 1-1.5 TBSP of kava in each ball, and let them bounce against each other in the bottle for superior extraction.
Last update on 2022-06-08 / Affiliate links / Images from Amazon Product Advertising API
---
My Usual Aluball Kava-Making Process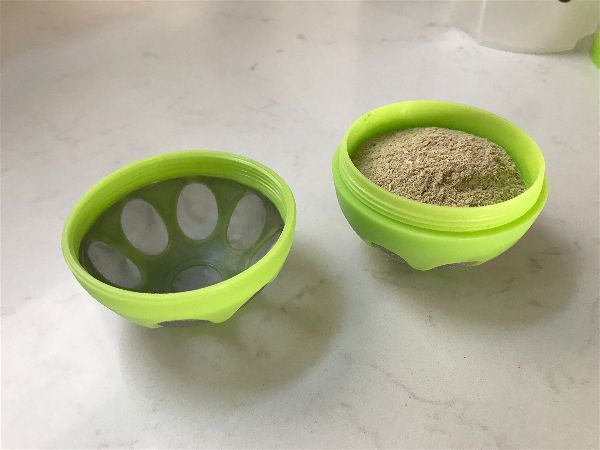 Place Kava in the Aluball Strainer (2 tbsp will fit)
Fill with one cup hot, but not boiling, water (175′ or so)
Place cap on cup, secure screw-on cap
Shake for a minute, or maybe a bit more
Unscrew cap, pour in cup
Second Wash
I'll then repeat the process with an additional cup of water for the second wash, using the same steps above. Shake for another minute.
The water will turn mild tepid brown color. Less dark than the first wash, but still, extra kava was extracted.
You can then mix the original first wash of kava with the second wash, and drink that down. By mixing the two, you ensure you get an even potency in your drink.
Third Wash
Some potent kavas can handle a third wash. You can try a third round with your kava to see if you get any further extraction. Typically you want to use less water with the third wash, and if you don't notice much darkening to your water, your kava is probably fully extracted.
If you want more kava, throw that original batch out, and scoop out some new kava to restart the process.
---
Micronized Kava vs. Aluball Kava
For those who like Kava Kava but hate to deal with straining and kneeding, the other option is to choose micronized kava. Micronized kava doesn't need to be strained, and is just mixed into the kava like protein powder, and drunk.
Micronized kava is great, and I certainly enjoy a micronized kava from time to time, but it is relatively expensive and there is smaller variety of kavas to choose from in micronized format. Micronized kava is often an excellent way to try out kava for the beginners, but once you have determined that you enjoy kava, going to traditional root is generally cheaper, more enjoyable, and opens up more possibilities. By using the Aluball combined with traditional root, you can keep the preparation and mess to a minimum, as well as keep costs down.
You should also consider that the Aluball can be used in conjunction with micronized Kava as well! Place your micronized Kava inside the Aluball and shake. This will help mix the micronized Kava, and prevent any significant sediment at the bottom of the cup, and make the micronized experience that much better.
Aluball Cost Considerations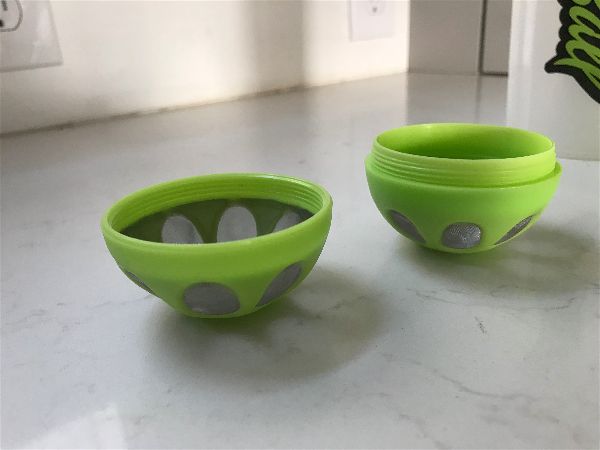 The Aluball is not terribly expensive, and it makes the kava preparation process so much simpler! Given that micronized Kava is usually notably more expensive than traditional root per serving, the Aluball can be effective at keeping costs low, while enabling users to enjoy Kava whenever the want.
You pay upfront for the Aluball, but you make it back in cheaper Kava over time. Also, I find that Aluball is more efficient in Kava usage than other options, and I use less Kava per session.
---
Conclusion
The Aluball really is the easiest way to make Kava tea, and is a requirement for any household where Kava is regularly consumed. As this Aluball review has discussed, this product is safe, clean, efficient, easy to use, and will help bring the benefits of Kava to a wider audience.
I think it is an excellent product, and encourage those who are interested in Kava to take the leap into the Aluball cup.
Kavafied AluBall Pro Kava Maker
PRO VERSION OF THE WORLD'S FIRST KAVA MAKER
PATENTED ALUSHELL CAP - Inspired by the coconut...
36-oz. CAPACITY - 36 ounces gives you enough room...
BPA-FREE EASTMAN TRITAN - Impact and odor...
PATENTED ALUBALL BREWING BALL INCLUDED - (AluBall...
Last update on 2022-06-07 / Affiliate links / Images from Amazon Product Advertising API
---