Roots of Being is reader supported. When you buy through our links, we may get a commission.
Bula Kava House has long been one of the best Kava sources on the web, as well as for those who are lucky enough to live in the Portland, OR area. They have been selling a variety of Kavas through their website for a while, and I have frequently purchased their wares. They have just recently started selling their Nangol Kava on Amazon, and as their Kava is available through Amazon Prime, gone are any shipping issues that were sometimes present when ordering directly from BKH. This article is a Nangol Kava Review and looks at the quality, potency, and experience of this Kava.
Quick Summary: the Nangol is really quite nice, though unfortunately, it's not the most cost-effective Kava out there!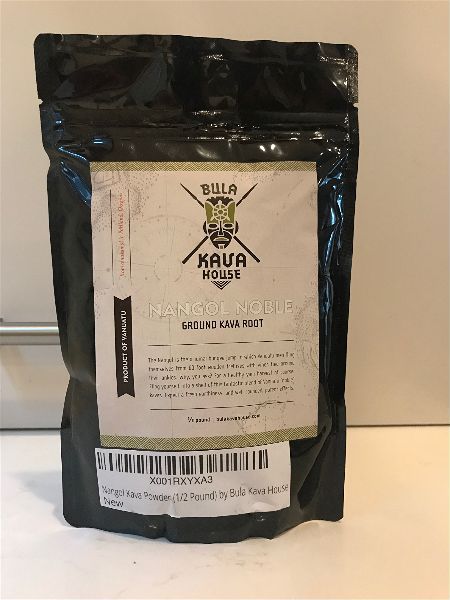 ---
Bula Kava House Nangol Kava Review
The Nangol Kava from Bula Kava House is a potent, heady, Vanuatu Kava that produces a pretty intense mind and body relaxation, and is definitely a great choice for those who are looking for a deep, complex, sleep-inducing Kava. It is certified 100% Noble, and the owner of Bula Kava House is pretty responsible when it comes to quality control.
Nangol Kava Consistency
The Nangol has a pretty potent peppery smell, and is ground quite finely, with few twigs or chips or larger pieces present. However, some clumps of Kava were there, but those are quickly shaken apart in the Aluball. It's medium brown in color, and when mixed with water, the resulting solution remained medium brown in color as well, quite a bit lighter than (for example) the Dua Na Bilo Fijian Kava.
Nangol Noble Kava Preparation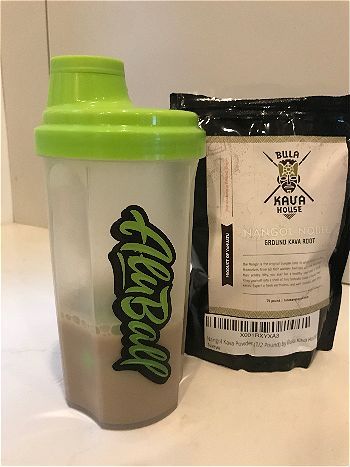 As I typically do when preparing a Kava, I scooped about two heaping tablespoons into my Aluball Kava Maker (a kava preparation system I love), and added about one cup of water, as hot as it comes from the tap. I capped the Aluball and shook it vigorously for about two minutes.
At that point, it's ready to drink!
See my Kava Preparation guide for more information on making Kava in all sorts of ways.
Nangol Kava Flavor
The flavor of the Nangol really is not too bad, as Kavas go. I chased it with sparkling water, to keep the calories down, but the flavor on this one is pretty mild, which is unusual since it's pretty potent stuff. The flavor was not so far from the Wakacon Lawena, while the effects are certainly more incandescent.
Within a minute, the mouth goes intensely numb, and the head and body effects come on over the next thirty minutes.
The Nangol would be a great choice for those who are just getting into Kava, and who curious as to its effects, but are frightened by the flavor. The flavor of this stuff is still not enjoyable, by any means, but it's drinkable.
Second Wash
I did a second wash with this Kava, using the same preparation outlined above, and the same quantity of water. The second wash did produce a good deal more Kava, but that was about as far as things went. I got the sense that the Kava was completely extracted after two washes, and I did not try a third.
The second wash was potent, once again, and further expanded the relaxation and chill sensations the Nangol produces.
Nangol Kava Effects
The Nangol has a surprisingly fluid effect, and in some ways, the physical sensations are not so different than a cannabis high. After about 5-10 minutes I was feeling waves of relaxation, and within 20-30, the full effects of the Kava hit me as I finished preparing dinner.
Perhaps the similarities to a physical cannabis effect are due to the relatively high Yangonin content, I'm not sure. Music sounded pleasant, deep, and blissed out. In this case, the amazing tones of Michael Kiwanuka.
Last update on 2023-12-04 / Affiliate links / Images from Amazon Product Advertising API
The mind impacts are also significant as well, though at no point did I feel that I lost much mental clarity. Within an hour of taking the Kava, I felt the urge to go to sleep (though that was earlier than I would normally sleep).
This is definitely not a daytime Kava, and I would not have wanted to try to get any work done, nor would I want to operate a vehicle. Due to the sleep-inducing effects of this Kava, it's really a great choice for those with insomnia troubles.
Meditation was quite pleasant, and I was able to stay focused without falling asleep.
As soon as I finally did go to sleep, I slept like a baby! I did, however, wake up with a mild headache; however, it's hard to say that the Kava produced that — it's more likely seasonal allergy.
Nangol Kava Chemotype and Kavalactones Details
As I mentioned above, the Nangol Kava is a 100% Noble Vanuatu Kava, certified and lab tested by Flora Research and Microbac. The Certificate is produced by BKH, but and is a compilation of tests done from the two different testing labs.
The Certificate of Analysis shows that Nangol is about 7.75%. In terms of potency, that puts the Nangol in middle of the road, but leaning towards the strong side.
The Kavalactone profile is Chemotype 423651. It's primarily a Kavain-based Kava, which is normally energizing, but this one knocked me out!
The high percentage of Yangonin in Nangol Kava may be what lends it the cannabis-like similarities, as Yangon is in some way connected to the CB1 receptors, which is the same pathway used by THC. That is just speculation, however!
Regardless, this stuff is quite relaxing, is 100% Noble, is reasonably potent, and is quite enjoyable.
The Bottom Line: A Pleasant, But Pricey, Kava
Bula Kava House's Nangol Kava is an excellent option for those who are new to Kava, and for those who are looking for a stoney, reasonable tasting beverage with solid potency and pleasant effects. It's easily available on Amazon, and shipping is super simple for those with Amazon Prime.
However, it's not cheap, and the cost of this Kava on Amazon is significantly more than on Bula Kava House's website. I understand that Amazon takes its cut, and the ease of Prime ordering and shipping is a huge advantage. If the price is not for you, and you're looking for a "beginner" Kava, check out the Wakacon Lawena. If you want a cheaper, less smooth, but more potent buzz with easy Amazon Shipping, don't miss the Dua Na Bilo Fijian.
I hope Bula Kava House manages to put more of their products up on Amazon, and perhaps lower prices by doing more volume. We shall see. Regardless, the Nangol Kava is an excellent option for many, and is highly recommended.
You'll be able to stomach the Kava, but maybe not the price!
Last update on 2023-12-04 / Affiliate links / Images from Amazon Product Advertising API