Kava is an entheogen derived from the roots of the Piper Methistycum plant, or Kava plant. It has been used for thousands of years across the Pacific Islands in places like Vanuatu, Fiji, Tonga, Hawaii, etc. It grows best in these climates, and virtually all Kava on the market is from the Pacific Islands. Typically Kava is consumed as tea, prepared by extracting the Kavalactones from dried root. The flavor is not tasty, and the preparation can be a pain. However, there are several other ways of imbibing Kava, including tinctures, extracts, and Kava tablets. This article looks specifically at a few different options for Kava tablets, considers which ones are good and which ones aren't — there's a lot of junk in this category!).
Best Kava Tablets
There's no question that the best Kava Tablets currently available are the Ozia Originals Kava Stress Relief Candy Tablets. These items are not tablets in the medicinal sense, but rather are a tasty candy, available in two flavors, that has a decent Kavalactone kick. They're not going to rock your world or make you krunk, but they do have a worthwhile effect. Kava Stress Relief Candy is a great choice when you need to turn the stress dial down a few notches.
Ozia Originals is just about the only supplier of Kava Tablets that is reasonably responsible about testing and identifying what actually goes into their Kava, making them the best choice.
Oh, and they're tasty, too! For more information, see below.
Last update on 2022-06-06 / Affiliate links / Images from Amazon Product Advertising API
---
Issues with Kava Tablets and Supplements In General
The main problem with Kava supplements is that they are made up of extracts, and people who are inclined to purchase supplements probably are unlikely to pay much attention to the quality of the kava being used. There are three major concerns when purchasing extracts and supplements.
Noble vs Tudei Kava
Though there is at least a little bit of controversy over this, unless you really care to go off the deep end, the bottom line when it comes to Kava is that you should only be drinking Noble strains of Kava, and you should avoid Tudei strains of Kava. This is the policy of the Vanuatu government, and it is due to safety and quality concerns.
Though the FDA does not distinguish between Noble and Tudei Kava, traditionally Tudei is considered a poorer form of Kava, tends to have a longer duration of effect, tends to bring on nausea, and is generally to be avoided.
Supplement makers know that most buyers don't know the difference, and therefore are more likely to be purchasing non-Noble strains of Kava.
Parts of the Plant Used in Extraction
This is perhaps the most significant concern when dealing with extracts. Due to the nature of a CO2 and alcohol extracts, everything tends to get extracted from the plant, including toxins present in the plant matter.
This is not the case with a traditional water extraction of dried kava made the traditional way.
As some unscrupulous buyers will purchase any Kava plants available and proceed to extract whatever comes from those plants, there is potential for real harm from some supplements. In the previous Kava boom in the 1990s, there were several deaths from liver failure due apparently in part to Kava ingestion. Most of these cases seemed to involve alcohol and Kava, and also tended to occur from extracts that included the non-edible parts of the plant, like the stems and leaves of the Kava plant.
You, and your liver, really do not want to ingest these extracts.
Mold and Contamination
When drinking a traditional Kava beverage, it's pretty easy to tell moldy plant material from good material. With supplements, extracts, and pills, it's impossible to tell whether the plant matter is old, moldy, or contaminated with other plants.
Testing Kava Supplements
We can't even necessarily trust the tests of some Kava supplement companies! Some companies own the labs where the testing occurs, so there's a major conflict of interest that goes back and forth between the Kava tablet companies, and the Kava testing labs.
So Where Does that Leave Us?
Many find the preparation process and taste of Kava so off-putting that they lose out on the benefits that the plant can provide. Are there any other options out there for Kava in a form that is not traditional Kava-root based?
There are some Kava tablets and supplements that are passable. The best option is certainly the Ozia Originals Kava Candy, as the company is pretty responsible. There are a couple of other options that pass the reasonableness test, which I will also look at below.
---
Ozia Originals Kava Stress Relief Candy
The Ozia Originals Kava Stress Relief Candy is a really tasty Kava candy in an ideal format for throwing in your pocket or your handbag, and for using at work or when on the go. The impact of this Kava is pretty mild, and it is not particularly sleep-inducing. It's a great choice for those who are looking for an easy option that flies under the radar, and is totally appropriate for a workplace environment, or when you're otherwise on the go.
Key Information
Each candy has 50mg of kavalactones
Available in two flavors, orange and ginger mint
Made of a blend of kava strains and some other flavors
Seller advertises that the Kava is noble
General chemotype is 245XXX
Serving is usually 2-3 candies
The Details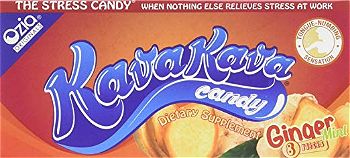 The Ozia Originals Kava Candy tablets are typically sold in 4 packs and 12 packs, each pack consisting of 8 candies. These packs are compact and easy to carry around, similar to breath mints and the like. And while they are rather tasty, they have a much more interesting effect than breath mints do!
Each Kava Candy Tablet has 50mg of Kavalactones in it, made up of a blend of Hawaiian Mahakea and some Vanuatu Kavas. The maker of the candies does not specify the exact makeup of the Kava, and while he does say that it is 100% Noble, I have been unable to find any testing information on the Kava.
In terms of Kavalactone makeup, the chemotype is 245XXX, so it's fairly high in Kavain, and Yangonin is reasonably present as well.
Effects of Ozia Kava Candy
None of the supplements available is going to have a super strong effect akin to taking several shells of a real dried Kava like Bula Kava House Nangol. They just don't work like that, and if you're looking for a strong Kava that will have a fairly intense mind and body altering effect, you really need to focus on dried root like the Nangol, or micronized Kava like Kalm with Kava's Borogu micronized.
However, most of those who want a Kava tablet are looking for something convenient that has some calming, relaxing effects. These tablets fulfill that need perfectly, and that is why they're so great to have around. A serving is usually 2-3 tablets, taken one at a time. Put the tablet under your tongue and suck on it until it dissolves. After you've had two, you'll feel some mouth-numbing as expected, and your stress thermometer will drop down a few degrees.
The effects of the Kava Candy lasts about 1 hour, and you could consider popping another candy in as needed to extend the calming sensation. As they are so easy to have on hand, and there's no Kava preparation to deal with, these are super easy to take as needed.
The Bottom Line
The Ozia Originals Kava Candy Tablets are just about the only kava tablets on the market I would currently recommend. The effects are great for those who are looking to achieve a little calm and relaxation at work or on the go, and the potency is appropriate for the format. These candies taste good, seem to be made responsibly enough, and have a solid effect when 2-3 are taken.
If you're looking to get wasted off of Kava, you should look elsewhere, but these will turn the anxiety dial down a few notches, and also serve to extend the effects of a Kava session a bit later into the night, should you not want to mix up another drink.
They're a great option, and they're so easy to carry around. Also, just FYI they are much cheaper when purchased as a 12 pack.
Last update on 2022-06-07 / Affiliate links / Images from Amazon Product Advertising API
---
Gaia Herbs Kava Capsules
Gaia Herbs Kava Capsules are made of Kava sourced from Vanuatu, which is a decent start. As Vanutatu prohibits the export of Tudei Kava, we can at least know that this Kava should be 100% Noble Kava. The key word here is should, and there's no guarantee that all the Kava in this product is actually from Vanuatu.
Key Information
Vanuatu Kava, should be Noble
Each Supplement contains 75mg Kava
Vegan Phyto-capsules
Alcohol extract, but virtually all alcohol has been removed
The Details
Gaia Herbs is a pretty respectable company, and these Kava tablets are hopefully in line with the other work that they do. The potency of the Kava is there, though like the Ozia Candies, you're not likely to get knocked off your rocker, rather you may find a source of calm and relaxation to bring you down a few notches.
These supplements are made with an alcohol extraction, which isn't ideal, as it's generally considered not a great idea to mix alcohol with Kava, though the alcohol is removed entirely.
However, the general consensus is that alcohol extracts the full spectrum of chemicals from the plant, as opposed to just the kavalactones in a water extraction, so again, this isn't ideal.
The Bottom Line
If you know you don't want traditional powdered root, and you can't find the Kava Candy (or just don't like them), you could do much worse than to choose the Gaia Herbs Kava Kava Root Supplements. Gaia Herbs is a reputable company, and the Kava is from Vanuatu, so they're one of the better options for supplements.
I just still wouldn't call these an ideal choice, regardless.
No products found.
---
MediHerbs Kava Forte Kava
MediHerbs is also a fairly respected supplement company, and their Kava Forte is a water-extracted Kava that is perhaps the closed process to a traditional kava root beverage of any supplement out there. Still, we don't have much information on this Kava, and at least on Amazon, it's extremely expensive per dose.
Key Info
Water extracted Kava supplement
Contains 50mg of Kavalactones per tablet
Meets Australia's Kava supplement regulatory requirements
Costly, at least from Amazon
The Details
Kava Forte is available in Australia, which has more strict requirements for Kava than the FDA does (wisely!). As Kava Forte is able to meet these requirements, we can be fairly confident that this Kava supplement comes only from the roots of the Kava plant, as all Kava should be. It's hard to say whether this stuff is Noble or not, or what the country of origin really is, but the water extraction technique and the fact that it is available in Australia are both reasonable plusses.
The Bottom Line
The MediHErbs/Standard Process Kava is a decent choice for a Kava supplement, but like the Gaia Herbs, the recommendation is certainly not a strong one. You could do much worse than this stuff, though, and it is unlikely to hurt you.
Last update on 2022-06-07 / Affiliate links / Images from Amazon Product Advertising API
---
Conclusion: Best Kava Supplements
For Kava supplements and tablets, the clear winner is the Ozia Originals Kava Candy. This stuff tastes good, is made by a reasonably responsable company based out of Hawaii, and it works well. It's also not particularly expensive, especially when purchased in bulk.
The Kava Candies are unquestionably the best place to start for Kava tablets.
If for some reason those are unacceptable, you could opt for the Gaia Herbs or the MediHerb Kava Forte supplements, though I'm not entheusiastic about either.
Beyond that, I'd recommend you stay away from most supplements and tablets, and get used to the taste and preparation methods of a traditional Kava root beverage like Wakacon Lawena, which as I mentioned in my review, is a good beginner strain.
Last update on 2022-06-07 / Affiliate links / Images from Amazon Product Advertising API