Roots of Being is reader supported. When you buy through our links, we may get a commission.
Having a designated room in the house dedicated to meditation is a privilege. But for many of us, it is a necessity as well! If you happen to have a spare room or space that you can turn into even into a small room, using it for meditation purposes will help you have your own peaceful sanctuary at home. It is such a fun room to design and your options are endless.
In this article, we'll look at several meditation room ideas, and give you some suggestions to outfit your quiet space.
Important Things To Consider When Designing Your Meditation Room
How your meditation room looks and feels can greatly affect you during meditation. If you are teaching a class, the ambiance can also affect your students. However, how the place looks, if the colors match or the wallpaper you place are just part of the whole picture. There are other important and practical things to think of when designing your meditation room such as the following:
Sound Levels
The sound levels in your meditation room are very important. Although some can focus even when there is a bit of noise outdoors, that may not be true for all. Ask yourself if you want the room to be as quiet as possible? Then you'd have to think of soundproofing the room.
Also, if you like to play music to enhance the mood, then you'd have to think of getting good speakers. You may also choose to go for the natural route. If there are trees and birds around you, could you open the windows and hear them without getting distracted with traffic noise.
And many of us find getting the focus on the breath to be a little bit easier with the use of a singing bowl or tinghsha bell.
Time Of Meditation
Although you can meditate at any time of day, you should consider what time of day you are likely to meditate. If you choose to meditate in the morning, do you consider sunshine to be of help or more of a distraction because of the bright light or heat?
If you prefer night meditations for sleep, you should also consider the number of people in the house. If they are watching TV or just goofing around the house, could you still meditate with the noise?
If the noise is too loud at certain times when you meditate, you can benefit well from the soundproofing. If you meditate in the mornings when no one else is around and the noise outside isn't that bad, then you might not need the soundproofing.
Privacy
Another factor to consider is privacy. The ideal meditation room is a room that isn't used for anything else and is separate from the house for more privacy and fewer sound distractions.
However, that isn't always possible and you have to learn to make do.
Privacy can be achieved when your meditation space is a room where you have a door that you can close and lock.
For those who can't really use the whole room for meditation purposes alone, physical barriers can be used to separate the space.
Heating And Cooling
Controlling the temperature in your meditation room is also important. It will greatly affect your comfort so make sure you have the right tools and devices to help you regulate the room temperature.
Temperature fluctuations and HVAC systems can produce significant distractions that can frustrate meditators.
Meditation Room Ideas and Themes
When you've thought of and considered those found above, it is time to get creative and design your meditation room according to your preference. You can start by thinking of an overall theme to use for your room.
Think of the overall look and feel of the room then you can add the details later on. It may seem overwhelming or confusing to think of a theme but once you found one, it would be easier to add in the details later on. To get you started, here are some ideas for meditation room themes.
Minimalist
This theme usually uses neutral colors and it is the simplest of all. It only contains the essential items you need for meditation. It exudes simplicity and organization with the absence of clutter. This theme is very basic and yet it works because your senses don't get too distracted by the things around you.
It can be as simple as a room with an Alexia Meditation Chair (one of our favorite meditation cushions) and a candle for you to focus on.
Spa
When you enter a spa, there is a certain ambiance that feels relaxing and calm. You can use this as a theme for your meditation room. It can be as simple as lighting some candles or using essential oils for aromatherapy. It can also be as extravagant as looking like you might experience on a holiday.
This usually features comfy seats or a zafu and zabuton set, relaxing scents and the sound of trickling water from an indoor water feature like the Kenroy Home Indoor Fountain shown above would also feel nice.
Cozy Comfort
Cozy comfort themes are great for rooms that have limited spaces. Even if they are small, you can still make them inviting and warm. Blankets can be helpful here.
Natural candles add to the coziness and feeling of warmth. Using a meditation pillow instead of a rug also makes the space more cozy and comfortable.
Open Space
Although some people might love the idea of tight and cozy spaces others might feel claustrophobic in them. Creating a meditation room that has an open space theme can feel more comfortable. With this, you want to open up the room as much as possible.
Big windows will work well with this kind of theme because it lets lots of natural light in. Apart from using light, walls should also be light-colored to bounce off the light.
Sacred Temple
Another good theme to create is the temple theme. Look at temples, sacred places, and shrines as an inspiration. This theme will usually contain various natural elements that can be carved. It could also have some incense or candles. Depending on the type of temple you get inspiration from, you can create something that reflects African, Asian, Aztec, or other cultures.
Place a Tatami Mat on the ground, decorate with natural woods, use an electric incense burner and some frankincense, and you'll be well on your way!
Outdoor Meditation Room
Your meditation room doesn't need to be inside the house, you can take it outdoors!
Just take note of the noise levels. If you live in a busy community, then this may not be the best for you.
An outdoor meditation room can also be part of your garden or backyard. Make sure it has a roof or shelter above it to prevent it from getting ruined due to unforeseen weather conditions. Meditation rooms are supposed to help you concentrate and meditate not feel depressed because of how it looks after the rain.
Color Themed
Aside from various themes, it is also possible to focus on a color to create your meditation room. It can be a single color, shades of one color, contrasting color, or a mixture of several ones.
Just make sure it looks cohesive and well put together rather than just mixing random items with the same color.
Zen Garden
If you can't bring your meditation room to your garden outdoors, you can certainly create yourself an indoor zen garden for your meditation room. The focal points of Zen gardens are the sand or gravel features.
Fit your sand container below the floor level so that when you add the sand, it'll be at the same level as the floor. You can add potted plants for the beautiful green contrast.
Alternately, you can just use a pre-made tabletop zen garden.
Wooden meditation benches like the one offered by SPOKO Meditation Chair B01MSN9NG1 has a natural appeal that would fit your zen garden well.
---
More Tips On Creating Your Meditation Room
Maintain Your Meditation Room
After creating and designing your meditation room, you should make sure to maintain it well so you'll feel as comfortable and relaxed as you would the first time you used it.
If something about it is stressing you out, like clutter, candle wax drops, spilled essential oils, dirty cushions, and others, then you haven't properly maintained the room.
Minimize Clutter
It can be tempting to decorate your room with lots of decorations, but you don't really need much. Often a single focal point like a candle, or a beautiful backflow incense burner like the Flow.month one shown above, will provide all you need.
Also, if you are the only one who uses the meditation room, you should also consider keeping the extra meditation rugs and cushions out of sight. The less clutter you see, the more focused you'd become.
Use Natural Features
There's just something about natural features that can help improve the ambiance of the place. Natural features like plants, flowers or even water features can greatly improve how your meditation room feels.
If you are afraid of killing plants, get hardy ones that are meant to be indoors. The pop of green color can be refreshing to the eyes.
Choose The Right Seating
Not all people would be comfortable crossing their legs while seating on the floor. Being at an uncomfortable position makes it much harder to meditate. Today, there are different kinds of meditation seats available.
Some can be made of soft foam for other comforts while others are just simple rugs. There are also meditation benches that look great in various meditation room themes.
Consider Using Aromatherapy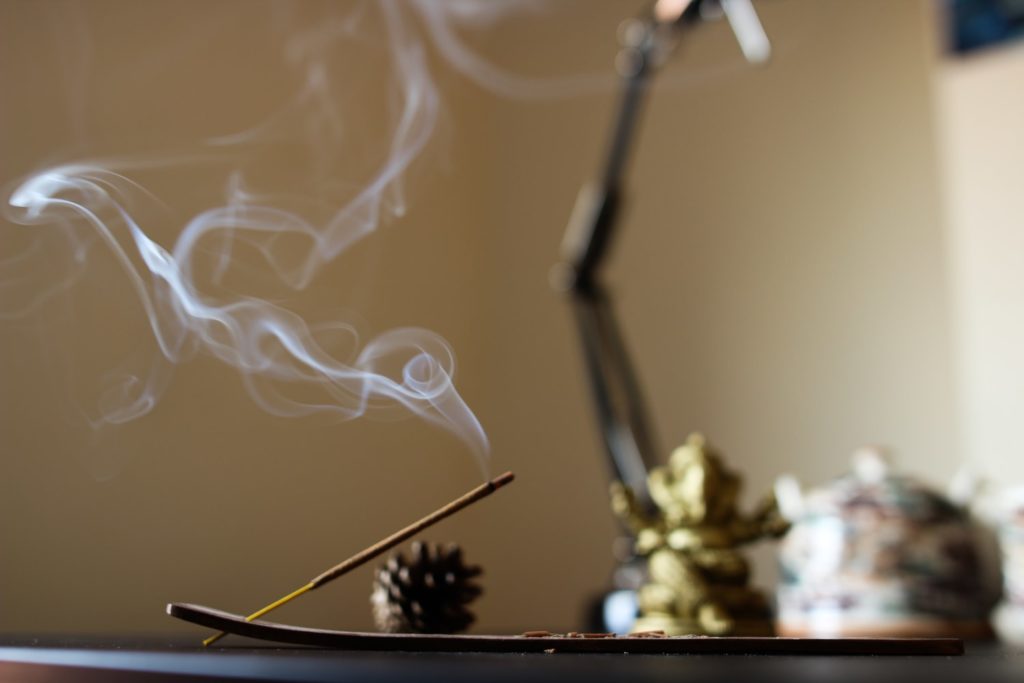 When you enter a meditation room, you'll often be greeted by incense. See our article on incense meanings for some good choices for your room.
In a spa, you'll be welcomed by the relaxing aroma of essential oils. Similarly, you can also use the power of essential oils to help set your mood. There are essential oils that can be used for meditation because they do not only help you relax, they also help you focus on what you need to focus. Some essential oils also reduce stress like Jasmine, Clary Sage, Bergamot, Lavender, Lemon, and Ylang Ylang.
Light Some Candles
Whether you use scented candles or not, lighting them can help improve the atmosphere in your meditation room. A burning candle is also sometimes used as a tool for meditation as the person focuses on the dancing flame.
However, while candles can also be a potential risk so make sure you blow them out after your session. Also, make sure that the candles you are using are not too used up and will be able to last through your meditation session.
Carefully Choose Your Lighting Sources
Natural light is great but you can't rely on it 24/7. However, there is much artificial light today that can help provide a suitable source for meditation. There are even lightbulbs that are dimmable so you can adjust them to the right brightness.
Himalayan Salt Lamps are also a great source of light because they have that calming reddish glow. They also offer other purported benefits for the body.
No Screens Allowed
It can be tempting to place a TV or a smart device in the meditation room but you should fight that urge. It is meant to be a meditation room that's free of stress and distraction. Screens can cause distraction and can compete with your focus.
The temptation to use them is already great so don't make it more difficult to resist by adding screens to your meditation room.
Meditation apps are popular, but in our eyes, they create as many problems as they solve. Better to get a book like The Mind Illuminated, and use it.
---
Final Words
When creating a meditation room, it is important to remember that not all people will feel the same about a certain meditation room. It is a matter of preference. We've discussed some of the most basic things to decide on when purchasing a home. Above are also some ideas on what theme to create for your meditation room.