Roots of Being is reader supported. When you buy through our links, we may get a commission.
Regardless of whether you're a gym rat, a desk jockey, a stay-at-home mom, or pretty much any other adult, you probably experience muscle stiffness, fatigue, and pain. Those with certain medical conditions are even more prone to chronic muscle pain. And if you've got chronic pain, you're always on the lookout for a good solution!
Massaging is one of the best ways to de-stress, to reduce chronic muscle pain, and to relieve stiffness. However, most of us don't have the time or resources to arrange regular massage therapy sessions.
And that's where handheld massagers come in handy. You can't use your handheld massager at any time, no appointment necessary!
In this article, we review 10 of the best handheld massagers available. We also include a detailed buyer's guide that covers everything you need to know in order to make the right purchase. We'll start with the best handheld massager, the Sonic Handheld Percussion Massage Gun.

---
Best Handheld Massager Comparison Table
Preview
Top Choice!
Runner-Up
Budget Pick
Best Percussive
Best for Athletes
Name
Sonic Handheld Percussion Massage Gun
HoMedics Percussion Massager
Top Choice!
Preview
Name
Sonic Handheld Percussion Massage Gun
Runner-Up
Preview
Budget Pick
Preview
Name
HoMedics Percussion Massager
Best Percussive
Preview
Best for Athletes
Preview
Last update on 2023-12-05 / Affiliate links / Images from Amazon Product Advertising API
---
Key Points at a Glance
Powerful and super quiet motor
5 levels of intensity and 5 massager heads
Simple and handy usage. No need to go through complicated manuals.
100% lifetime money-back warranty
Extra long-lasting battery life
The Details
The Sonic Handheld Massage Gun is designed to send waves of relief and relaxation throughout your body. It helps in rejuvenating aching muscles and sore tissues through a powerful motor with high penetration power. With regular use, your everyday mobility and flexibility will be improved and you can relief from tired muscles and joint pains, particularly back pain.
This percussion massage gun comes with 5 levels of intensity and 5 massage heads. You can choose the speed that suits your preferences to target different muscle groups and body parts. There's a low-pressure setting of 20Hz which can go up to 45 Hz for a powerful percussive massage.
The battery has an extra-long run time of about 3-6 hours so you can take it to your gym or sports club for an on-the-go therapy.
And it's hard to beat the 100% lifetime warranty offered by Sonic on this massage gun! The Sonic Percussion Massage Gun is the best handheld massager available.
Sale
Last update on 2023-12-05 / Affiliate links / Images from Amazon Product Advertising API
---
Key Points at a Glance
5-in-1 massager with a powerful motor
Portable, easily customizable and high battery life
FDA registered and FCC certified
Safety feature that prevents the device from getting overheated
Compact design and easy to hold
The Details
If you're looking for a powerful handheld massager that is not too pricey, you must take a look at the Renpho Rechargeable Deep Tissue Handheld Massager. This massager is packed with 5 interchangeable attachment heads to suit a variety of purposes and fully relax your muscles and relieve pain in no time.
The round ball and one point heads are excellent for deep tissue massage and are ideal for your back and feet, while the curved head works well to relax your arms, thighs, and legs. The 3-point head with rubber coating is safe to use for sensitive areas such as shoulder blades, joints, and cervical vertebrae. The 3-intensive head is a larger-sized version of the 3-point head.
The Renpho handheld massager is equipped with an amazing motor that delivers up to 3600 pulses per minute. It is a cordless model with a high capacity lithium-ion battery that can last you for up to 140 minutes so you don't have to worry about pausing your massage sessions.
However, you cannot use it while it's getting charged.
This is our runner-up among the best handheld massagers.
Sale
Last update on 2023-12-04 / Affiliate links / Images from Amazon Product Advertising API
---
Key Points at a Glance
3 different massage heads and variable speeds (up to 3100 ppm)
Heat massage feature
Ergonomic design, lightweight and portable
Two-year warranty
Not a cordless device
The Details
An extremely budget-friendly option on our list, Homedics Percussion Massager is ideal for those who want to massage hard to reach places in our body. With its two pivoting heads, it delivers a firm yet soothing performance.
You can choose from 3 different attachment heads: one that gives a soothing massage, another that gives you a soothing heat massage and a third that gives a gentle and relaxing massage. The variable speed control makes things even better.
The massager comes with dual pivoting heads operating at up to 3100 ppm. The ergonomically designed handle lets you comfortably massage areas such as your back, neck and shoulder blades. You can move the handheld percussion massager nodes up or down to get the intensity you prefer.
One little issue with the massager is that it's corded and needs to be connected to a 120-volt outlet to be operated.
If you're searching for a handheld massager that mimics a massage therapist's hand movements on the massage table to relieve pain and loosen muscle knots this handheld massager is the right choice for you.
This one is priced right, though it's not cordless. It's an excellent choice for those on a budget.
Last update on 2023-12-05 / Affiliate links / Images from Amazon Product Advertising API
---
Key Points at a Glance
Gives superior all around and targeted muscle relaxation and pain relief
4 attachment heads for a variety of purposes
High-speed option available
Extra-long power cord for greater mobility during the session
The Details
This therapeutic deep tissue percussion massager by Wahl is outstanding. It will relieve all your backaches, pain, and fatigue with incredible ease and speed. It comes with a variety of options ranging from a gentle to deep and penetrating massage.
It can be operated at up to 3350 pulses per minute and features 4 different attachment heads suited to every part of your body. You can get a deep muscle massage (for full-body relaxation), flat disc massage (for back pain), four-finger flex massage (for stiff neck) and acupoint massage (for deep tissue tension release) using the different heads.
An 8-foot long power cord allows you to move freely and the handheld massager's sleek design is super comfortable to hold and carry around. We've put together a detailed article on Wahl's Massagers here.
Sale
Last update on 2023-12-04 / Affiliate links / Images from Amazon Product Advertising API
---
Key Points at a Glance
Powerful ad silent percussion motor (3200 ppm)
Easy customization with 5 heads and 4 levels of intensity
Extra-long battery life
Lightweight, ultra ergonomic design
The Details
Reathlete percussive massage gun makes it extremely convenient for athletes to get the benefits of physiotherapy, yoga classes, and chiropractic treatment through a single handheld device at the comfort of their home and plan their self-care regime as per their specific needs.
This percussion massager device is ideal for athletes who want to cut down their injury recovery time and relieve pain. It effectively targets muscles that are chronically sore and achy, providing fast and long-lasting relief post-workout.
It's not cheap, but it does a great job for those of us who work out hard!
The DEEP 4S comes with 5 interchangeable heads and 4 different intensities to optimize and work deep into every muscle and tissue.
The Reathlete handheld massager is lightweight and has a full body reach along with an adjustable arm.
The battery can last for up to 6 hours on a full charge. These are the best handheld massagers for athletes.
Sale
Last update on 2023-12-05 / Affiliate links / Images from Amazon Product Advertising API
---
Handheld Massager Buyer's Guide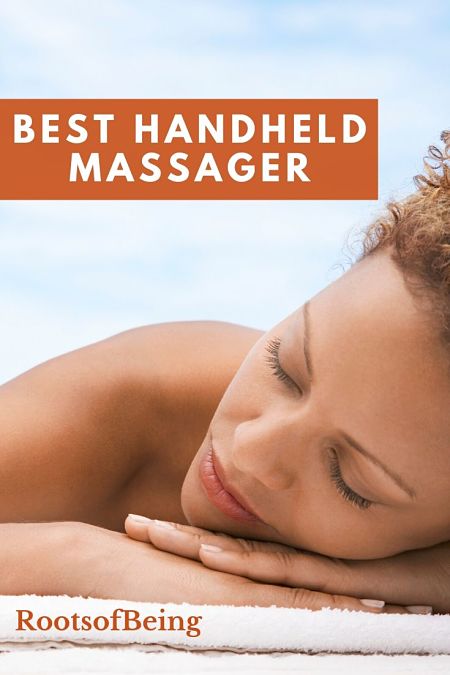 Important Features to Consider
Handheld massagers come with a range of features. Things like intensity and speed are important for the massage itself while others weight, design, versatility play a role in the overall user experience. Let's take a look at some of the key features you should consider when buying a handheld back massager.
Intensity and Speed Controls
When looking for a handheld body massager for yourself, you should see if it offers different speed and intensity settings so that you can use it as per your massage preferences and needs. The more options you have with regard to speed and intensity settings, the more versatility the product will offer.
The lowest speed setting usually provides a relaxing and de-stressing massage whereas the higher ones are created to give a strong and intense massage. Some massagers can go up to 4000 ppm on their highest speed setting.
Not everyone has the tolerance for that speed.
There are others who only reach 2800-3000 ppm which is suitable for most people.
Cordless Unit
For maximum portability and ease of use, a cordless massager works best and allows freedom of movement during the massage session. These massagers need to be charged and can be sued anywhere at any time. However, their battery life varies from model to model.
There are some models that allow you to charge them while they're being operated and there are others that don't. So, just be sure of what will suit you best.
Another option is to use handheld massagers that offer medium portability. They are not cordless but they allow almost the same level of movement as cordless massagers.
Use on Different Body Areas
The attachments heads that come with the massager are designed for specific jobs and areas of the body. Not all heads are safe to use all over the body so if you have more options for different areas, that increases the versatility of the massager.
Some examples for attachment heads include scalp massagers, narrow attachment heads for targeting specific areas and wide heads for massaging the entire back.
Customized Massage Type
Another feature of handheld massagers is that they can provide one or more types of massage therapies depending on the model you get. For example, there are percussion massagers that are great for joint pains, while others combine percussions with heat or vibration for back pain.
Ability to Reach Difficult Areas
No matter what type of massager you choose, it should have an ergonomic design and allow mobility. You should be able to hold it in place and move around easily. This is important so that you can reach all areas of the body, such as all portions of your back, comfortably.
Ease of Use
The ease of use of a handheld massaging device is an extremely important factor that absolutely must be taken into consideration. If you want to be able to use the massager for a long duration or easily carry it around anywhere, a lightweight device would be your best choice.
Other factors that affect their ease of use include ergonomic design, nonslip handle, cordless or electric device, etc.
Weight of the Device
The lighter the massager the better will be its versatility and ease of use. However, the massager should have adequate weight to hold it in a stable position during the therapy. Also, a lot of people push the massager into their skin if they need a more intense and deep session.
To do this the massager should have some weight to be able to withstand the pressure otherwise it will get damaged or even break due to all the rattling. Of course, if you want a full-body massage, you could consider a massage chair or massage cushion.
Safety
Always read the safety warnings on the massager pack or user manual. Nowadays most models come with added safety features that will automatically turn off the massager if they're left on but not being used for more than 20 minutes.
Frequently Asked Questions
Here are some of the most frequently asked questions about handheld body massagers.
Which Type of Massage Do I Need?
To know this you should first understand your specific needs. Which area of your body is the problem, why is it a problem, the type of pain and or stiffness you're suffering from, your medical history, etc.
These questions will help you decide which massage techniques suit you best and will provide you the desired results. You can also consult a physical therapist or physician to guide in this regard.
Here's a general guide for different types of massagers.
Deep Tissue Massager – For realigning deeper layers of muscles, tendons and ligaments. Help alleviate pain and stiffness. Great for legs, shoulders, neck, lower and upper back. Useful for people with sciatica, osteoarthritis, fibromyalgia, limited mobility, and sports injuries.
Percussion Massager – Best for soft tissue pain, increasing venous and lymphatic circulation, relieving muscle spasms and stiff joints.
Roller Massager – These are medium intensity massagers that roll out tight muscles and promote myofascial release. Great for daily relaxation purposes and eliminating soreness of muscles.
Kneading Massager – These massagers come with heads that mimic the kneading massage technique that pushes your muscles against the bones. Therefore, they are high intensity and very effective in loosening up muscles.
Vibrating Massager – They stimulate muscles and nerves and come with different speeds and intensity settings to relieve tight muscles. Best for people who find percussion or deep tissue massagers to be too intense.
Ultrasonic Massager – They reduce chronic inflammation by increasing blood flow and reducing inflammation. They accelerate healing and are good for muscle, tendon and joint injuries.
Does Heat Therapy Have to Be an Essential Part of the Massage?
Heat therapy can result in very positive outcomes when it comes to relieving cramps and muscle knots. It increases the flow of oxygen and blood to regain flexibility. It's especially good for people who are vitamin D deficient or sleep-deprived and this experiencing very painful muscles. Heat therapy is also very effective in eliminating lower back pain.
What Are Some Commonly Available Attachment Heads for a Handheld Massager?
Some of the most common attachment heads include wide massagers, scrapers, rollers, kneaders and scalp massagers. You should go through the manufacturer's instructions and recommendations before using any attachment head so you're clear about its functioning and use.
Can I Use a Handheld Body Massager While I'm Pregnant?
No, it's not safe to use handheld massagers during pregnancy as the rhythmic movement can transfer vibration to the uterus. This stimulates the uterus and may cause premature labor leading to many other complications.
Blood clots are also a concern among expecting mothers so it's best to avoid massaging devices during this time. However, if your doctor approves, you can choose a low-intensity massager to help alleviate back pain associated with pregnancy.
---
Other Products We Looked At:
The Mighty Bliss Deep Tissue Massager, with its 3700 ppm percussive motor, offers full-body pain and stress relief for all muscle groups. It's ideal for use on the back, neck, shoulders, and feet.
If you want to end the torturous back pain and unbearably stiff knots in your back, this massager is your perfect choice. It is cordless, lightweight and features a brilliant slim design. The battery will last for 12 minutes on a single charge is the recharge time is also super quick.
Key Points at a Glance
3700 ppm powerful percussive motor that is effective at breaking knots and improving blood circulation.
Easy to change attachments and simple controls
Good battery life and fast charging
Last update on 2023-12-05 / Affiliate links / Images from Amazon Product Advertising API
---
This is another solid choice among handheld body massagers. It's a double-headed massager that boasts a professional strength of 3350 pulses per minute. It's dual head attachments instead of the standard single massaging node makes it even more appealing and together with pressure and various movements, it mimics a professional masseuse.
You can manage the intensity and speed of the massager through multiple personalized settings as per your desired experience and effects. It comes with 3 removable massage heads for intensive, deep tissue and circular massage. It is very effective relieving built-up muscle tension and pain and improves blood and lymphatic flow.
It is designed using a comfortable nonslip grip. However, the head of the massager is a bit bulky and heavy. The power cord is sufficiently long to allow for free movement.
Key Points at a Glance
Double-headed massager
Powerful motor that can run at up to 3350 ppm
Highly customizable
Last update on 2023-12-05 / Affiliate links / Images from Amazon Product Advertising API
---
Next on our list is the Hangsun handheld neck and back massager that provides a deeply soothing massage for use all over your body. It's built with a powerful motor that runs at 3500 pulses per minute and it can penetrate the tightest of knots to give quick and long-lasting relief.
It can be operated on a range of speeds and comes with 3 different massage heads that are interchangeable. The dual-head percussion makes it even more effective for a deep and targeted massage therapy ensuring pain relief and overall relaxation.
The handle is ergonomically designed with a 98-inch power cord which further improves its ease of use. However, it doesn't have a heating function.
Key Points at a Glance
Dual head percussive massager
Multiple speeds to work for all areas of your body
Easy to use design and durable
Last update on 2023-12-05 / Affiliate links / Images from Amazon Product Advertising API
---
No products found.
The Purewave CM-07 is a powerful percussion and micro-vibration massager used for deep tissue massage, acupressure, stress relief, and myofascial release.
This unit features a dual motor design and comes with 5 different massager heads to treat all problem areas and give you complete pain relief from head to toe. The dual-motor technology helps break up the toughest of knots and relax muscle spasms.
It's a cordless model so you can easily use anywhere you want without the need to be connected to a power outlet. Moreover, the massager's design shows a slight curve making it ideal for massaging your back and legs.
However, this device doesn't have a very long-lasting battery life compared to other available massagers.
Key Points at a Glance
Powerful dual-motor design
5 interchangeable massager nodes
Good for sciatica and arthritis pain
No products found.
---
This versatile handheld body massager from Vivreal includes attachments that can help you massage all parts of your body with great ease. It gives you plenty of options when it comes to massage intensity and type. It also includes 6 different massage nodes to give you an invigorating deep tissue and percussive massage.
The massager also comes with 6 different operating intensities to meet your specific demands. The cordless design and standby battery life of about 100 minutes give you enough freedom to use it with convenience.
Key Points at a Glance
6 different massager nodes and 6 different intensities
Powerful motor with a maximum speed of 3200 ppm
Easy to handle and use
Last update on 2023-12-05 / Affiliate links / Images from Amazon Product Advertising API
---
Conclusion
As you can see, handheld massagers are a perfect alternative to in-person massage therapies. They are incredibly versatile and a single model can cater to all your massaging needs. With interchangeable heads, variable speeds and intensities, and optional heating functions, there's truly a handheld body massager for everyone.
The Best Handheld Massager is the Sonic Percussive Massager and is an excellent place to start finding relief.

Last update on 2023-12-04 / Affiliate links / Images from Amazon Product Advertising API
---