Roots of Being is reader supported. When you buy through our links, we may get a commission.
Best Infrared Sauna
An infrared sauna can be a great addition to the home and can bring relaxation, comfort, and possibly even health benefits. After a thorough examination of many in-home saunas on the market, I've found that the best infrared sauna is the Radiant Sauna 2-person infrared sauna.
Beyond getting basic functionality right, it's an aesthetically pleasing sauna that's backed up with a 7-year warranty and a US-based support team. When making a larger purchase such as a sauna, these are significant factors to consider.
Heat is supplied by six FAR Infrared carbon heaters, (up to 141F), and the sauna includes a music player with CD, AUX, and radio capabilities, and infrared color light therapy.
Last update on 2023-11-28 / Affiliate links / Images from Amazon Product Advertising API
For more information on the Radiant Saunas 2-Person model, see the Product Reviews section below.
---
Runner Up: Best Home Sauna
The runner-up best infrared sauna, and not far behind Radiant Sauna, is the Dynamic Venice Sauna by Dynamic Saunas.
This infrared sauna features a clear tempered glass door, six a low EMF FAR infrared carbon heating panels, and a chromotherapy lighting. Like the Radiant Saunas model above, the assembly should be a breeze. You'll be able to begin enjoying your new sauna in your home within a few short hours of it arriving.
Last update on 2023-11-28 / Affiliate links / Images from Amazon Product Advertising API
For a complete review of the Venice, see the Product Reviews section below.
---
Budget Pick: Home Infrared Sauna
The Dynamic Saunas Andora is a smaller version of the Venice, but with all of the same major features and capabilities. It is still capable of fitting two people, but it's a smaller footprint sauna than the Venice.
The Andora has a slightly different aesthetic to it as well, so that is a factor to consider. This unit comes in at a lower price point, which is always a plus!
Last update on 2023-11-28 / Affiliate links / Images from Amazon Product Advertising API
For further information on the Andora, see the Product Reviews section below.
---

Buyer's Tips
An in-home sauna can bring great benefits to you and your family and can become quite economical if you're the type of person who loves to visit a sauna for relaxation and health benefits. A two-person sauna is ideal for home use, and is large enough for two people to sit, or for one person to sprawl out a bit.
In this section, I'll look at several of the important factors buyer's should pay attention to when shopping for a sauna. These factors include methods of heating, materials, design and aesthetics, additional features, and warranties.
We'll also take a look at some of the potential health benefits that saunas may provide (and we'll consider a few questionable health claims, as well).
If you love the idea of a personal sauna, but can't stomach the price point, you may be interested in a Portable Infrared Sauna.
Sauna Heat Types
The major styles of sauna heating are infrared electric panels and steam heat. All of the saunas on our list today use infrared panels, and this design is a bit more common among tw0-person saunas than steam heat for home.
Though traditional Scandinavian saunas use steam heat, infrared electric panels are much more convenient for those who are looking for home use.
Bloomberg has an excellent overview of the burgeoning trend of using infrared saunas.
FAR Infrared Panels
The infrared panels found in all the tw0-person saunas are in the far infrared spectrum, which is at the high end of the infrared spectrum, moving toward the microwave frequencies. Far Infrared has less energy than visible light, and have longer waves.
Far Infrared Saunas send infrared energy to the body directly, as opposed to heating the air around the body. This means that far infrared saunas will actually heat you more using less heat, as the heat is concentrated directly on the body, as opposed to in the sauna room itself.
Is Infrared Heat Safe?
Are there any risks to using an infrared sauna? Is infrared light potentially harmful to the body? Is an infrared sauna like a tanning bed?
Infrared heat is safe. It is on the opposite end of the spectrum from ultraviolet light, which is potentially harmful. This light is commonly found in tanning beds, and, well, from the sun!
The most significant risk from using an infrared sauna is dehydration from spending too much time in the sauna!
Infrared waves are longer than the waves that produce visible light, while UV waves are shorter than those that make up visible light. Short light waves are dangerous; long waves are not.
Just be sure you are drinking plenty of water to counteract the sweating.
Low-EMF Saunas
Some people are concerned about the risks of prolonged exposure to Electro-Magnetic Fields, or EMF. Virtually all electrical items produce EMF, including blenders, microwaves, mobile phones, tablets, computers, TVs, etc.
The World Health Organization suggests that "based on a recent in-depth review of the scientific literature, the WHO concluded that current evidence does not confirm the existence of any health consequences from exposure to low-level electromagnetic fields."
The WHO would consider the EMF amount of all the saunas on this list as low-level EMF, however, some are lower than others, and some specifically are marketed as Low EMF. If you're particularly concerned about EMF exposure (I am not), you may want to gravitate toward the lower level EMF models.
Some models suggest they are Zero-EMF, and this is almost certainly false. It's best to stay away from saunas that suggest this.
Sauna Materials
When it comes to the materials an infrared sauna is made from, Canadian Hemlock is the stuff! This wood is beautiful, pleasant-smelling, and ideal for Infrared Saunas. Look for FSC-certified wood or reforested wood to ensure that they're not cutting down old growth forests for your infrared sauna!
Sauna Design and Aesthetics
Most saunas are quite simple, with a tempered glass door, a few recessed lights, perhaps a music system, and a bench.
When comparing models, consider the quality of the glass door mounts, door handles, number of glass panels, etc.
The goal is to relax your mind and restore your body, and the more pleasant the finishes while you're inside your home sauna, the easier that job will be.
Additional Common Features
Lights
All the saunas on our list have some sort of lighting system. This is quite important if you plan to read or chat while in the sauna. Of course, you could use technology, but we strongly suggest you keep your sauna experience as technology-free as possible. Use the sauna time for meditation, relaxation, and quiet, as opposed to catching up on Instagram! And you shouldn't bring your phone in the sauna.
Music System
Most of the saunas on our list have a built-in music system. For most people in today's age, CDs are a bit cumbersome, as cable connections in general!
The best of these designs are the ones that just use a Bluetooth connection, so you can set up some calming music on Spotify or Youtube, and relax in the sauna for a while. Just remember to choose your music before you go inside.
Number of Glass Panels
Generally a home sauna will have a large tempered glass door, similar to a shower door. Beyond that, the number of additional windows are a variable. The more windows, the better, usually, though if your view is just of the rec room in your basement, that may not be the case!
Often the glass panels are positioned as clerestory windows, and these provide light and a sense of openness, without giving direct views out of the space, especially when sitting down.
Warranties
Of course, some of the home suanas on our list have better warranties than others, and the length and quality of the warranty is certainly a major factor that plays into the overall quality of each sauna. Be sure to consider the warranty, as the idea is that these saunas will last for many years!
---

Home Infrared Sauna Health Benefits
The Mayo Clinic, has done a great round-up of the health benefits of Infrared Saunas. As they say in their article on Infrared Saunas, "Several studies have looked at using infrared saunas in the treatment of chronic health problems, such as high blood pressure, congestive heart failure, dementia and Alzheimer's disease, headache, type 2 diabetes and rheumatoid arthritis, and found some evidence of benefit. However, larger and more-rigorous studies are needed to confirm these results."
There are tons of sites out there extolling the virtues of infrared saunas and their abilities to remove toxins and all sorts of other stuff. While there does seem to be some evidence that there are health benefits to saunas, a lot of the wild claims are pretty much nonsense.
An infrared sauna is a great place to relax and recover and may have some health benefits for some. Start your search using this sort of frame of mind, and ignore all the MIRACLE WEIGHT LOSS HEALING MAGIC! claims.
Are Infrared Saunas Healthy?
Absolutely! They heat your body, make you sweat, and can make you feel great, especially once you're done. Read a book, meditate, spend some time focused on yourself, and let the rest of the world go for 20 minutes. This is all time very well spent.
What about further scientific claims? As the Mayo Clinic article mentioned, all of the science on this is really new and speculative. Let's look at a few of the claims in detail.
Home Infrared Saunas and Blood Pressure
A few studies of people who already have cardiovascular problems have found there may be improvements in cardiovascular function after regular infrared sauna use.
Scientists don't seem to understand the mechanisms that cause this improvement, but they have found benefits.
Of course, much more research is needed here.
Saunas and Life Extension
Additionally, there may be some overall longevity benefits connected to spending time in a sauna (not just an infrared sauna).
A study covered by Harvard Medical School, looked at 2,300 Finnish men over 20 years found that "frequent visits to a sauna were also associated with lower death rates from cardiovascular disease and stroke."
It must be said that traditional Finnish saunas are not the same as infrared saunas (they likely use steam), and it's unclear exactly what the mechanism is that is lowering the death rate, but the association is there.
Saunas and Chronic Fatigue
A small pilot study found that infrared saunas, in combination rest using a warm blanket, seem to provide relief for those with chronic fatigue. This impact only occurred after the sessions in the sauna were complete.
Given that there aren't many good treatments for chronic fatigue, this is quite promising and needs more research.
Home Saunas and Arthritis
There's also some potentially good news regarding those suffering from arthritis and joint pain. Some tests have found evidence that infrared sauna exposure over the course of a month lead to reduced incidence of joint pain, especially in those people who suffer from rheumatoid arthritis.
Infrared Saunas and Weight Loss
Infrared Saunas, like all saunas, make you sweat a lot, and by association, make you lose water weight. That's water weight, not fat. Infrared saunas won't make you lose fat, so if you're looking to lose weight, the sauna is not going to be a magic bullet for that!
Infrared Saunas and Toxins
The whole concept of "removing toxins" and detoxification is generally nonsense. Of course, there are real toxins, like arsenic, lead, asbestos, and the like. If you're heavily exposed to any of these, you need to get to a doctor, not to a sauna!
The general woo-woo "toxins" that westerners are suggested to be exposed to is mostly nonsense. We live in an incredibly clean, antiseptic environment.
Infrared saunas and the Immune System
There are some ultra-preliminary studies that have found that regular sauna use may improve the immune system, and could even help in fighting the common cold.
Infrared Saunas and Cancer
If you search online, you can find claims suggesting that home infrared saunas can help fight cancer. Studies like this one (on mice) are referenced. Unfortunately, these are so preliminary as to be wishful thinking.
If you are looking for cancer treatments, an infrared sauna will not provide them.
How Long Should You Use a Home Infrared Sauna?
Stick to shorter timeframes when starting out with your infrared sauna, perhaps 5-10 minutes per day. Once you're used to that for a few days, work your way up to about 30 minutes, which is the consensus top length of time. Some like to push that to 45 min-1 hours, but don't go there until you really know what you're doing.
Of course, if you feel light-headed, dizzy, or at all uncomfortable, be sure to get out immediately, drink some water, and cool off.
Always listen to your body!
How Hot Can an Infrared Sauna Get?
All the saunas on our list max out at about 140-15o' F — significantly lower than the 150-175′ F common with steam saunas.
Most users find they don't need to get their sauna up to that temp, and usually, stop at between 120-130′ F.
Once you've got your sauna set up, you can experiment with the temp to find the right one for your body.
How Long Does an Infrared Sauna Take to Heat Up to Temperature?
Most of the saunas on our list will come up to the temperature in about 10 minutes. Many find that they like to crank the temperature up to max to heat it up, and then when they step inside, drop the temperature down to 120-130′ for their sauna session.
What Do You Wear in an Infrasauna?
Sure, you can wear a bathing suit in your infrared sauna if you like. Usually, it's best to bring in a couple of towels, one for your seat, and another for the floor, and just go with that.
You're in your home, so you should be able to be comfortable being naked, especially with your partner! Here's some information detailing what to wear in a sauna.
---
Infrared Sauna Reviews
When shopping for a new sauna for your home, a few considerations come to mind. First, the overall construction of the sauna and material its made of.
For these five saunas, we picked saunas of Canadian Hemlock construction. These saunas are usually FSC certified and well built. They typically feature six heating panels to help maintain even distribution of warmth and had a focus on easy assembly. These are all among the best infrared saunas available.
We'll start with a comparison table to get oriented, and then go into detail on each individual offering.
Preview
Budget Pick
Runner-Up
Top Choice!
Budget Pick
Preview
Runner-Up
Preview
Top Choice!
Preview
Last update on 2023-11-28 / Affiliate links / Images from Amazon Product Advertising API
---
1. DYNAMIC SAUNAS Andora 2-Person Far Infrared Sauna
Coming in as the most budget-frinedly option (comparatively), the Dynamic Saunas Andora 2-person home infrared sauna accomplishes the same functionality as some of the more expensive options below, while also offering similar "extras". The primary reason this one is inexpensive is that it happens to be on the small side, as two-person saunas go.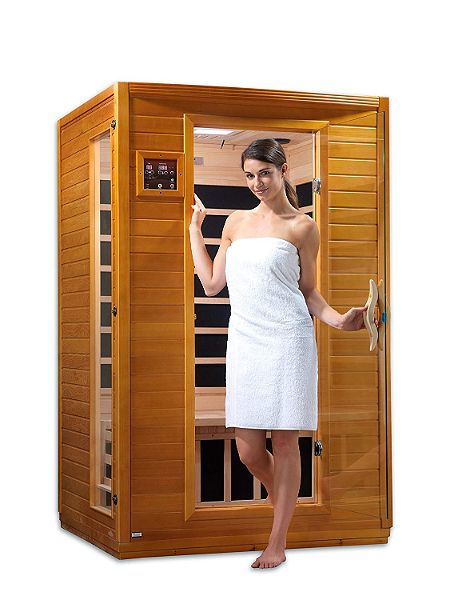 Key Points at a Glance
6mm interior and exterior wood planks

Clear tempered glass door and side windows

Eco-friendly; made of natural, reforested Canadian hemlock wood

Six low-EMF infrared heating panels – located on each sidewall, under the bench, on the floor, and two on the rear wall

May be installed anywhere in the house, including on carpet

MP3 auxiliary connection with two dynamic speakers

LED display and easy to use control panel

Provides "color therapy" option
Warranty Details: The full warranty can be found here (PDF).
Dimensions and Specs
Dimensions: 47 x 43.1 x 74.4 inches

Item weight: 330 pounds

Shipping weight: 385 pounds

Capacity: Up to 2 people

Maximum temperature: 140F
The Details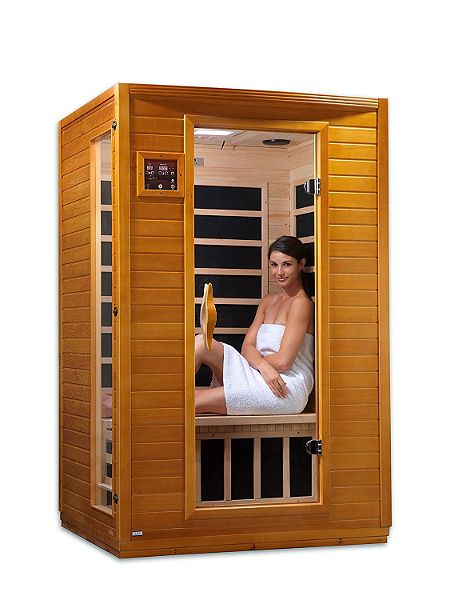 Despite being a budget option, the Andora infrared sauna has all of the main features as many of the others: Canadian hemlock wood, multiple spread-out heating panels, low EMF technology, and music capabilities. Sweet! This unit really supplies all of the functionality found in the larger, more expensive saunas on our list, it's just a little bit… cozier.
It also offers a "color therapy" function, which basically means the LED lights can change color, though there's a bunch of woo-woo marketing about colors impacting the "body vibrations." This is nonsense; it's a color-changing light.
If you and your partner are fairly small, or you just don't want a large sauna, the Andora is an excellent option.
Like most of the sauna on this list, assembly of the Andora Sauna is quite simple. It should take less than 1 hour long as noted by the manufacturer, with some people being able to get it done in as little as 30 minutes.
The assembly process is quite simple and involves snapping together each of the panels, with a minimum necessity for any tools. It can be installed on virtually any surface, whether carpet, wood floor, tile, the basement, or your garage.
Functionally, the Andora accomplishes what an in-house sauna should. It is capable of heating up to 140F, with heat produced through its six infrared carbon low-EMF heating panels.
The temperature and time can be adjusted through its soft-touch control panel.
Plug it into a standard 15 amp 110-volt outlet anywhere in the house for easy use – whether in a garage, master bath, or large walk-in closet.
Like other home saunas we will be looking at, it features a music capability system. This particular one uses an MP3 auxiliary connection, with two speakers. Bluetooth would be better, but for this price point, the Aux connection is fine.
The Bottom Line
The Dyanmic Saunas Andora home two-person infrared sauna provides all of the features buyers should be looking for at a reasonable price, and with very little downside. As long as your frames aren't too large, as it's a smaller model, while still capable of seating two.
Aesthetically, it looks great between the Canadian hemlock wood and clear tempered glass. 
The Andora is an excellent budget option for a two-person home infrared sauna, and is covered under a 1-year warranty.
Last update on 2023-11-28 / Affiliate links / Images from Amazon Product Advertising API
---
2. JNH Lifestyles NE2HB1 ENSI Collection 2 Person NO EMF Home Infrared Sauna
JNH Lifestyle's well-designed sauna is equipped with simple features, a stylish look, easy to use controls, and premium speakers. These features combine for a great sauna at a premium price point.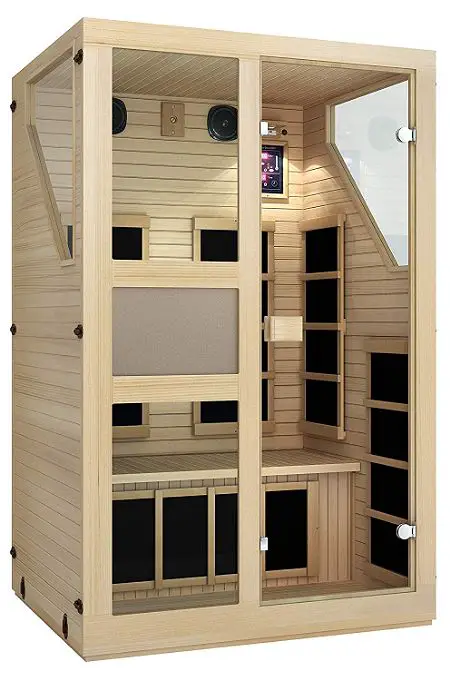 Key Points at a Glance
100% Canadian Hemlock; FSC (Forest Stewardship Council) certified with no chemicals added

Heating Supplied by 7 Ultra-Low EMF Panels

Dual-wall construction for heat insulation

Two speakers with Bluetooth connectivity; remote control included

Interior LED lights

Digital control panel for full adjustment of temperature and duration

Tool-free design allows you to buckle together each piece, for easy assembly

Warranty Details:

There is a three-year residential warranty with lifetime tech support.
Dimensions and Specs
Dimensions: 39.5 x 47.3 x 75 inches

Item weight: 462 pounds

Shipping weight: 350 pounds

Capacity: Up to 2 people

Maximum temperature: 140F
The Details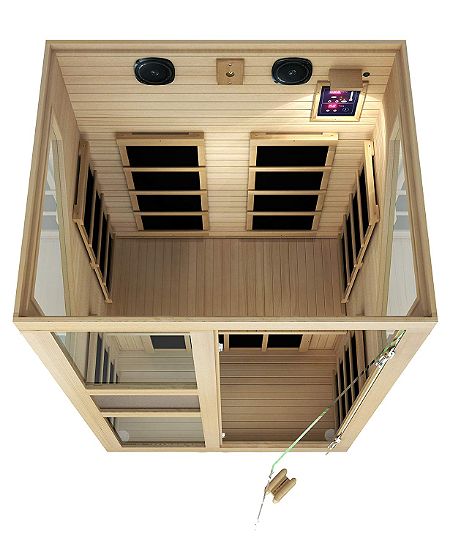 The JNH Lifestyles home sauna provides heat through its seven ultra-low-EMF infrared heating panels, which do raise its price above some of the other models on our list. As we mentioned above, EMF exposure is believed by some to have negative health effects, especially those who may be sensitive, although it is somewhat of a controversial topic.
If you are concerned about EMF exposure, this is a great choice.
Beyond its almost Zero-EMF Panels, the JNH Lifestyles Sauna has a focus on its sound features, which are the best of those on our list. The Sauna comes with two premium speakers built-in, along with an amplifier and volume rocker, giving users full control over its capabilities. It can be accessed via Bluetooth, so there's no need to fiddle with wires and connections. 
This home sauna has a larger portion of its frame made of glass than some of the other saunas, which is great if you will be positioning your sauna to have a nice view out to the garden or whatever. But if you're just going to be looking at your basement walls or whatever, this may not be a big selling point.
And beyond the music and glass, many of the features on the JNH Lifestyles hit the same notes as the other models on this list. It is built from Canadian hemlock wood, has a digital control panel, and side glass windows. The explicit 3 year warranty gives reasonable comfort in knowing that JNH Lifestyles fully back their product, and their lifetime tech support ensures that you'll always be able to get your sauna up and running, whether it's the first time you assemble it or if you need to move it.
The Bottom Line
The JNH Lifestyles Ultra-Low EMF Sauna is a good choice for those who are particularly concerned with EMF exposure and who are willing to pay extra to avoid that. The sound features are great, and the 3-year warranty is a great plus.
No products found.
---
3. DYNAMIC SAUNAS  Venice 2-Person Far Infrared Sauna
A similar unit to the Dynamic Andora infrared sauna that was first reviewed, this comes in at a slightly higher price but has also has more room for two to fit comfortably.
Key Points at a Glance
Made from reforested Canadian hemlock wood

Tempered glass (clear), side windows

Heated by six low-EMF FAR infrared carbon heating panels; 2 on rear wall, 1 on each side wall, 1 under the bench and 1 on the floor

MP3 music capability system

Warranty Details: The full warranty can be found here (PDF).
Dimensions and Specs
Dimensions: 49.3 x 41.4 x 76.5 inches

Item weight: 400 pounds

Shipping weight: 400 pounds

Capacity: Up to 2 people

Maximum temperature: 140F
The Details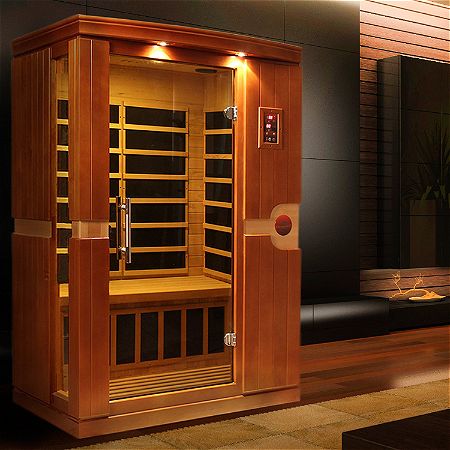 The Dynamic Saunas Venice is another elegant, two-person home sauna that focuses in on low levels of EMF. Similar to the Andora reviewed above, it comes with six dynamic heating panels and is constructed of natural Canadian hemlock wood. It features a two-tone wood look, which is quite striking.
The door and sides are made of clear tempered glass for safety. Tempered glass is a type of safety glass processed by controlled treatments (thermal or chemical) to increase its toughness, making it perfect for saunas, shower doors, and the like.
The heating panel heaters are 30% larger than ceramic tube heaters, allowing them to be more efficient and widespread. This unit will get cooking very quickly!
While there is an option for expert assembly for the Venice I at an additional price, it's generally not needed. This unit is quite easy to put together. Assembly is estimated to take between 30 and 60 minutes, making it convenient for such a large product.
The Bottom Line
From the essential functions to the extra features, the Dynamic Saunas Venice is a top infrared sauna with some great options at a solid price point.
The manufacturer noted that they are working on an app to help you control the sauna from your smartphone, which may be available as soon as January 2019 – so there is upside for the future of this sauna as well, and it's great that Dynamic Saunas is expanding its feature list with these.
The Dynamic Venice and Dynamic Andora are similar units, with the main differentiating factor being the cosmetic appearance and dimensions – the Venice is the ever so slightly larger unit.
Last update on 2023-11-28 / Affiliate links / Images from Amazon Product Advertising API
---
4. Radiant Saunas 2-Person Hemlock Infrared Home Sauna
Boasting the longest warranty out the bunch (7 years), Radiant Sauna's infrared sauna features infrared color therapy light, a music player with multiple inputs, and EZ-touch controls.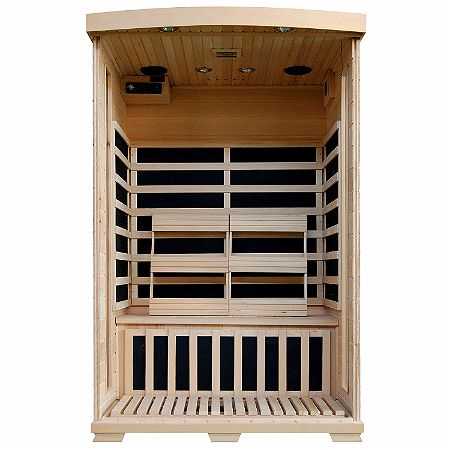 Key Points at a Glance
Canadian Hemlock construction

Six low-EMF carbon infrared heaters

Bronze tinted glass door

Has color-changing light functionality

Simple buckle connectors for assembly

Music player with AUX, CD, and radio capabilities

Warranty Details: Seven-year manufacturer's warranty.
Dimensions and Specs
Dimensions: 49 x 39 x 75 inches

Item weight: 354 pounds

Shipping weight: 382 pounds

Capacity: Up to 2 people

Maximum temperature: 141F
The Details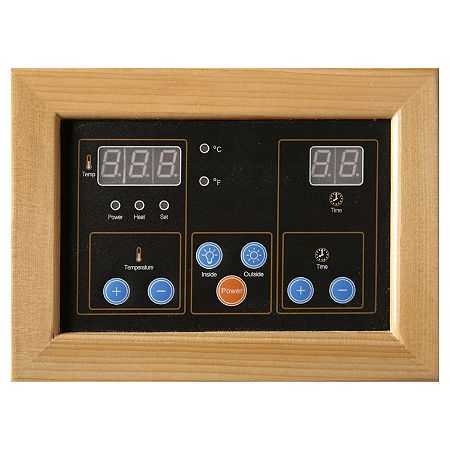 Similar to the Dynamic Andora, the Radiant Saunas this sauna boasts infrared color light therapy. As seen, you can change the light inside of the sauna for a more relaxing experience, ranging from blue, green, red, yellow, and so forth. This is marketed as "Chromatherapy", but as mentioned above, this is nonsense woo-woo.
Other major features include a simple soft button control pad, an oxygen ionizer for higher quality air, and a music player.
Functionally, this operates similarly to the other saunas we reviewed – with a maximum heat of 141F. The Radiant Saunas Two-Person will generally take around 15 to 20 minutes to warm up before it is ready for use. Six carbon heaters ensure that heat is evenly spread throughout the sauna.
A great deal of attention has been paid to the aesthetic look of this sauna, making it one of the best of the bunch. This includes carved hemlock handles and bronze-tinted, tempered glass doors.
As for assembly, it should arrive on a semi-truck on a pallet, with a weight of around 400 pounds.
Plan for about an hour to finish it up.
The Bottom Line
The Radiant Saunas Infrared Sauna is the Best Infrared Sauna around! This sauna excels on aesthetics, overall functionality, and is guaranteed by an outstanding 7-year warranty.
It's a safe purchase when looking at the overall lineup of options to choose from, but may come in at a slightly higher price point, given its great feature set and particular attention to details.
Sale
Last update on 2023-11-28 / Affiliate links / Images from Amazon Product Advertising API
---
5. Mountain Ridge ESF202HCB 2-Person Canadian Hemlock Sauna
Therapy light and dual oxygen ionizers are two ways that this infrared sauna separates itself from the competition.
Key Points at a Glance
Canadian Hemlock wood construction

6 heaters: with one on each side, two on the back wall, one on the floor, and one behind the legs

Interior reading light, therapy light

Ergonomic backrest

Infrared heaters operating from 5 to 12 microns; 1230 watts

Warranty Details: Contact the seller directly on Amazon for more information regarding their warranty.
Dimensions and Specs
Dimensions: 39 x 49 x 74 inches

Item weight: 315 pounds

Shipping weight: 350 pounds

Capacity: Up to 2 people

Maximum temperature: 141F
The Details
Mountain Ridge's sauna is similar to the Dynamic Saunas options mentioned above, in that it features Canadian hemlock wood, 6 heating panels, and a built-in audio system. It also has the chromatherapy color-changing light common on some of the other saunas on this list.
However the Mountain Ridge goes a bit further with some additional helpful features: it includes an ergonomic backrest, towel rack, and interior reading light.
If there was any downside to this infrared sauna, it would be that the door does not have a sealing system. It is possible for cold air to enter the sauna, which is a pain. That's a pretty big negative, though you can apply some weatherstripping to mitigate this somewhat.
Still, it's not ideal.
Additionally, the assembly is a bit more of a pain with this model than the other ones on this list. Many buyers have found the instruction manual confusing to use.
Finally, some of the extra interior features like the towel rack are not built of the same quality as the sauna itself, and are a bit of a let-down.
The Bottom Line
The Mountain Ridge Sauna hits all the basics in terms of functionality, such as being easy to use, heating up to 141F (roughly 30 minutes), having the heaters distributed evenly, and being relatively simple to install.
It does have some extra features as well which are a nice touch. For its price point, this is a reasonable infrared sauna to buy but it does not exceed expectations in any given area.
Last update on 2023-11-28 / Affiliate links / Images from Amazon Product Advertising API
---
Conclusion: Home Infrared Sauna
When shopping for the best sauna for the home, there are no shortage of options to choose from. I've outlined five high-quality saunas that share a lot of commonalities that make up a good two-person sauna. These features include Canadian Hemlock wood, easy snap-together assembly, spread out heaters to ensure even warmth, and additional features like a music player and easy to use control panels.
Some even come with chromotherapy light systems to further the experience, though this is just cool, not actually healthy.
None of the saunas on this list have any glaring weaknesses, but a few of them definitely stand out.
The best infrared sauna was presented by Radiant Saunas. The array of features that include simple controls, an oxygen ionizer, and a great warranty, combined with a reasonable price point, makes it stand out. Its quality control and customer service is maintained by US-based employees, lending to a more satisfying end-user experience.
Both Dynamic saunas, the Andora and the Venice, are reasonable follow-up options. Both come in at a slightly lower price point, with the Andora sauna being the only true budget option of the bunch. However, these both still come with many of the same features, and nearly identical functionality, of the rest.
Last update on 2023-11-28 / Affiliate links / Images from Amazon Product Advertising API
---