Singing Bowls are beautiful instruments, works for art, and objects to bring focus to those doing yoga, meditation, and the like. These bowls are played by running a wooden mallet around the lip of the bowl, producing a resonant, ringing tone that helps calm the mind and bring serenity. After looking at several meditation bowls available, I have found that the Thamelmart 6″ Tibetan-style singing bowl [Amazon Link] is the best singing bowl for many looking for a pure, resonant tone with handmade Nepali quality.
These bowls are made by hand in Nepal of seven metals, and the set includes a pillow and wooden striker wand. They are loud, pure-toned, beautiful, and quite calming. They are an excellent choice for a meditation bowl.

For a complete review of the Thamelmart 6″ hand hammered bowl, see below.
---
Runner Up: Best Tibetan Singing Bowl
With a wide variety of sizes and colors to choose from, the DharmaObjects line of Tibetan Singing Bowls [Amazon Link] has much to offer. These bowls sound great, and look beautiful, with hand-etched designs and hand-sewn pillows.
The DharmaObjects bowkls may be a little more difficult to play than some of the other singing bowls, and there may be some chips and imperfections on the paint.
But as long as you're not expecting perfection in a hand-made bowl, these are a great choice for pure relaxation.
For a complete review of these Tibetan singing bowls, see our Product Reviews section below.
---
Budget Pick: Best Meditation bowl
The Thamelmart 4″ Singing Bowl [Amazon Link] is a great choice for those who aren't sure whether a singing bowl will improve their yoga or meditation practice, or whether they will actually use the bowl. These budget-priced meditation bowls are attractive, inexpensive, and sound great.
Some sellers report including a pillow with the set, but others do not. Regardless, it may be best to hold this bowl in your hand and play it, or place it on a separate cushion where it will resonate easily.
They are made in Nepal, and are hand-etched. Many find that the paint is scuffed up or scratched in spots, so be prepared for some imperfections.
For a complete review of these singing bowls, see our Product Reviews section below.
---
Himalayan Singing Bowl Reviews
In this section, we will look at five different singing bowl options. We consider the origin and hand made nature of the bowls, the quality of the tone (links to videos for each bowl are included), beauty of the design, and the overall value.
Preview
Top Choice
Budget Pick
Runner Up
Pillow and Striker Included
---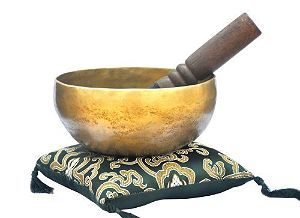 The Thamelmart 6″ Tibetan Singing Bowl is actually made in Nepal at the Singing Bowl House, but this singing bowl set really is quite lovely. It includes a bowl made of seven metals, a wooden striker with a suede wrapping, and a pillow. The Thamelmart 6″ singing bowl will look fantastic next to your Meditation Bolster!
It is hand-hammered in Nepal, and resonates with a deep tone, perhaps a bit deeper than its size would suggest.
Key Points at a Glance
 Handmade in Nepal at the Singing Bowl House
Set includes singing bowl, wooden mallet, and cushion
Mallet is stained wood, and has a suede-like wrapping around the end
Singing bowl is made from seven metals: gold, silver, copper, iron, tin, lead, and zinc
Not food-safe
Works as a singing water bowl
Dimensions
 6″ Diameter x 3″ High
Weight: 1.5lbs
The Details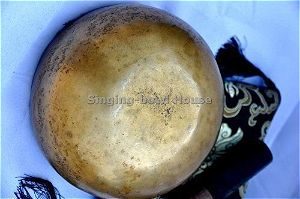 The Thamelmart Tibetan-style singing bowl is a lovely set at a reasonable price, with everything needed to produce the simple, calming tone of a singing bowl in the package. These instruments are hand-made in Nepal, and are fashioned of mix of seven different metals.
The wooden striker is coated on one end with suede, and is used to produce the singing tone. For those who are vegan, there is currently no option for other materials for the wrapping.
Depending on how the bowl is played, the tone can be produced indefinitely (if you keep circling the rim), or can be used as a gong, if you strike the bowl. If struck, depending on how hard you hit the bowl, and how carefully you listen, the sound will fade over a 15 second to 60 second time frame. Click here to see a short video showcasing the sound of these Tibetan healing bowls.
There is no certainty as to what exact pitch will be produced, as this varies from bowl to bowl.
Even though the bowl is hand-hammered, and looks dented and well-used, it's pretty easy to get a nice, constant resonant tone.
The Bottom Line: One of the Best Singing Bowls for Sale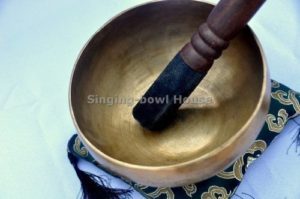 The Thamelmart 6″ singing bowl is a great choice for those who are interested in getting a reasonably sizable, "real" singing bowl. This bowl will produce a pleasant pitch, has a nice tone, and a very authentic, but spartan, look. The wooden mallet is functional, but not particularly beautiful, though the pillow is quite attractive.
If you're having trouble getting the bowl to sing, be sure you start by striking the bowl to get it humming before you rotate the wand around the outside rim to get it to sing. Also, try using your whole arm to rotate the bowl, as opposed to your wrist.
In our eyes and ears, these are the best singing bowls for those who practice yoga and meditation.
---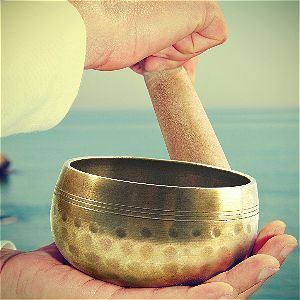 Like many of the singing bowls on our list today, the Ohm Store Tibetan Singing Bowl Set is actually made in Nepal. It is a 3.5″ diameter singing bowl, and produces a higher pitched tone than the Thamelmart bowl described above.
Key Points at a Glance
Hand hammered metal Nepali Singing Bowl
Includes Wooden Striker and pillow
Features a lifetime guarantee
Lead-free, but not food-safe
Dimensions
3.5″ Diameter
Weight: 10.6 oz
The Details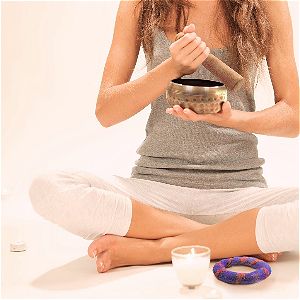 The Ohm Store Tibetan-style singing bowl set is quite a nice little set, and ideal for those who don't want to spend a whole lot of money on their bowl, but who like the ability to make a pleasing tone while meditating, doing a Yoga session, etc.
Click here to see a short video showcasing the sound of the Ohm Store 3.5″ singing bowl. If desired, water can be added to the bowl, and ripples will be present in the bowl when played. Some manage to get the water to jump, but that requires a bit of practice.
The bowl is not particularly decorative, but the finish is simple, and is an interesting object to look at, even when not in use. The mallet is also pretty simple, and works pretty well. The pillow is helpful to keep the bowl off of a hard surface, and to enable it to keep vibrating for a longer time. Compared to some of the other singing bowl sets on our list, this pillow is not very decorative, but it works fine.
Each bowl is hand-made, and there is no certainty as to exactly what the pitch of the bowl will be.
The Bottom Line: Great Singing Bowls for Meditation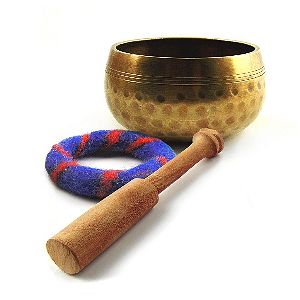 The Ohm Store 3.5″ singing bowl set is quite a nice package for its price, and is ideal for those new to singing bowls, and for those who want a smaller singing bowl. Everything here is hand made in Nepal, which we think is great, though those who want machined-perfection may not like this set. The tone is not as deep as it would be in a larger bowl, but it is pleasant, and this bowl is pretty easy to play. We also love the full satisfaction guarantee, which is always a great extra.
As with all singing bowls, to get them started, strike the bowl with the mallet, and begin rotating the mallet around the exterior of the bowl in a circular motion, with the mallet in contact with the bowl's rim. Try to move the whole arm, as opposed to just the wrist, and the tone will stay a bit richer.
Ohm Store Tibetan Meditation Yoga Singing Bowl Set
3.5 Inches HAND HAMMERED TIBETAN SINGING BELL SET - This is a full set of meditation bowl, wooden striker and hand sewn cushion. Made in the Himilayan Foothills By Nepalese artistans to create an ambience for emotional calming & healing.
ENHANCES YOGA, MEDITATION AND HEART CHAKRA CLEARING - The sounds generated by this Tibertan Singing Bowl is a type of energy medicine that promotes healing from stress disorders, pain, depression and most forms of dis-ease.
WONDERFUL TONES AND EASE OF PLAYING - Healing processes are initiated through entraining our brainwaves to synchronise with the perfect resonance of the bowls. Unique tones create the perfect state for deep meditation, creative thinking and intuitive messages.
FITS IN YOUR HAND - The Meditation Bowl Set fits in the palm of your hand, looks great on your desk or shelf, and adds a fun and harmonious flavor to your decor.
The Size of the bowl is approximately 4 inches diameter. lifetime guarantee on our full line of products.
---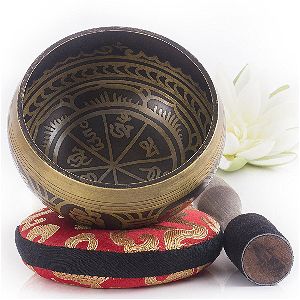 The Silent Mind Singing Bowl set line is an interesting lineup of Tibetan-style singing bowls painted in unique ways. There are five different color and design options, with some (the more expensive) bowls hand-made, while other options are machine made.
Key Points at a Glance
Five different color and design choices
Set includes 4″ Singing Bowl, striker with suede wrap, and decorative pillow
Some versions of this bowl are hand made, some are machine-made
Pillow and striker are hand-made
30 day money back guarantee
Dimensions
3.9″ diameter
2″ Height
Weight: 14.1oz
The Details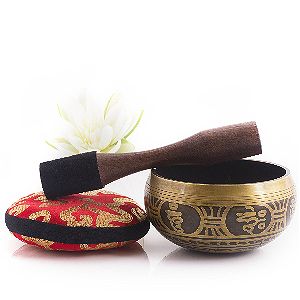 The "Antique Design" listings in the Silent Mind offering are all machine/hand made, and are constructed of a copper and zinc alloy. The Hand Made bowls are made of bronze. All the bowls are manufactured in Kathmandu, Nepal, and all the materials for these bowls are locally sourced as well, which is a nice plus.
The pillows and wooden mallets are also hand-made in Nepal. The mallet is a very simple design, and is one of the most attractive on the list today. The edge is made of suede, and unfortunately for the vegetarians and vegans out there, currently there are no alternate materials available that are more animal-friendly.
Click here if you would like to see a short video of the Silent Mind singing bowl in action. Each bowl has some variation in the pitch, and as this is a fairly small bowl, it has a somewhat high pitch. If you want to adjust the pitch of your bowl, you can add water to it.
The Bottom Line: Attractive Chakra Singing Bowls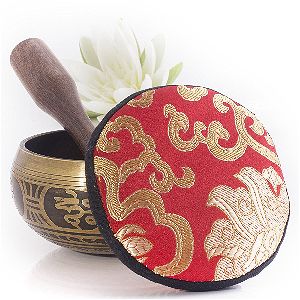 The Silent Mind Tibetan Singing Bowl line is a nice line, with some of the more attractive designs on the list today. Some of these are machine-made, but they are actually made in Nepal, and sound very nice. The pillow is a bit small for the bowl, and some find that the bowl has a tendency to topple off of the pillow during use, which is a disappointment. You may find it easier to hold the bowl in your hand, or to try to cradle the pillow in such a way that the bowl doesn't fall off.
The Silent Mind singing bowl set comes with an e-book that explains how to play a singing bowl. It does take a little practice, but it is not hard. For beginners, it's often easier to strike the outside of the bowl, and then begin running the striker around the exterior rim of the bowl, using the whole arm as opposed to just the wrist.
Silent Mind ~ Tibetan Singing Bowl Set ~ Antique Design ~ With Mallet & Silk Cushion ~ For Meditation, Chakra Healing, Yoga, and Mindfulness ~ Perfect Gift
TODAY'S FLASH SALE COUPON -- Want to save an EXTRA 10% TODAY? Use Coupon Code SILENTFS at checkout. "I love this bowl. The sound is just perfect" "The Silent Mind Bowl is a true work of art!"
Includes Antique Design 4" Singing Bowl, NEW Easy-Play Leather Pencil-Grip Striker, NEW Hand Sewn Non-Dampening Pillow. Play your singing bowl with EASE & create a LONGER LASTING beautiful sound with our NEW EXCLUSIVE designs.
Hand selected & inspected to ensure the best quality. Each set is checked against defects & sound quality before shipping.
Creates a beautiful peaceful calming & relaxing sound when tapped or played around the rim. Perfect for when you want time to yourself to relax or meditate.
Makes a perfect gift for any friend or loved one. Frequently gifted by many of our customers to friends & family. Something they will truly love.
---
The Thamelmart 4″ Tibetan-style singing bowl is a rather inexpensive option, and is a great option for a hand-made Nepali singing bowl for those who want one for meditation or yoga, but who are watching their pennies.
Key Points at a Glance
Hand made in Nepal
Hand-etched design
Includes bowl, wooden striker mallet
Some versions include a pillow and Tibetan prayer flags, but not all versions.
These have a surprisingly nice sound for their price
Dimensions
4″ Diameter x 2″ Height
Weight: 3.2oz
The Details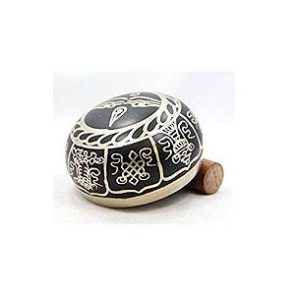 The Thamelmart 4″ singing bowl is a great budget option. It is quite attractive, though buyers may find that there are some scratches and spots where the paint chips off during the manufacturing process, or during shipping. The finish of the bowl is quite beautiful, however, and the mallet is a simple complement. Some have reported that their mallet wasn't sanded very well, and skips off of the bowl. If you find that happening, you could try lightly sanding your mallet further.
There is some confusion in the listing regarding the extras included in the set. Some receive a pillow and prayer flags, but the pillow is definitely a step down compared to the other pillows on the other singing bowls on this list. It's functional, but many will find that the bowl works better if held. However, others report purchasing this set and not receiving a pillow.
There is variation between each bowl produced, and there is no single set pitch for the bowls. Click here to see a short video showcasing the sound the Thamelmart 4″ Singing Bowl will produce.
The Bottom Line: An Inexpensive Singing Bowl Set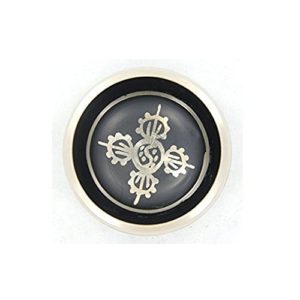 The Thamelmart 4″ singing bowl is really a great choice for those who don't really know if they will use a singing bowl, or are just interested in trying it out. These bowls are quite inexpensive, look very nice, and sound beautiful if properly played.
Once you're used to it, you may want to upgrade to a larger, more resonant bowl, but these are great to start out. You can use most any pillow, or just your hand, to hold the bowl.
As with all singing bowls, it takes a bit of practice to play them. It's easiest to strike the bowl first, then begin running the mallet around the outer lip of the bowl, using your whole arm to move the mallet.
---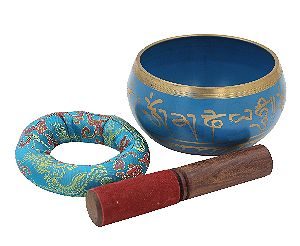 The DharmaObjects line of Tibetan-style Singing Bowls come in four sizes, and seven different color options. There are a wide variety of options and sizes, which make this a very attractive first place to start when shopping for a bowl.
Key Points at a Glance
Made in Tibet (I think)
Available in four sizes, and several colors
Each bowl is hand etched and hand painted
Includes mallet and hand-sewn pillow (note: some report not receiving a pillow)
100% Money Back Guarantee
Dimensions
The following chart shows the sizes and configurations of each of the four size options for the Dharma Objects singing bowls.
| Bowl Size | Diameter | Height | Weight |
| --- | --- | --- | --- |
| Small | 4" | 2" | 350g |
| Medium | 4.5" | 2.5" | 450g |
| Large | 5" | 3" | 700g |
| Extra-Large | 6" | 3.5" | 950g |
The Details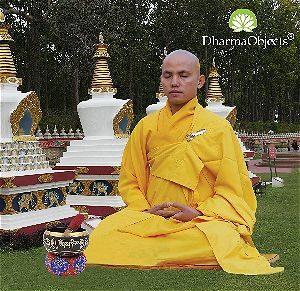 The DharmaObjects listing is a pretty attractive one, and depending on the size and configuration offered, has something for most everybody. That said, the paint on these is commonly not "perfect", as they are hand done. Many find that there are scratches and imperfections, and if they want a pristine bowl, it may be wise to look elsewhere.
It's not entirely clear where these bowls are made. DharmaObjects includes "Tibetan" in their listing, but so do all the other sellers on our list, and most of those are made in Nepal. DharmaObjects did not answer when asked, so these may be made elsewhere.
The striker has a suede cover, and there is no vegetarian/vegan option. Depending on the size of the bowl chosen, the larger the bowl, the more deep and resonant the tone produced. The larger the bowl, the longer a single strike will resonate.
Click here to see a video clip showcasing the sound of these bowls. They sound nice, though some find that getting the bowl to ring by running the striker around the golden area of the rim can be difficult. As with most of the singing bowls, there is variation in the pitch from bowl to bowl.
Also, these bowls can be filled partly with water to produce an even deeper tone, and create ripples of water inside the bowl.
Depending on the size of the bowl, different shape and scale pillows are offered. On the larger bowls, The pillow is thick, but it may be difficult to get the bowl balanced on the small cushion without toppling it. The smaller ones have smaller pillows, but they do a decent job of keeping the bowl resonant. Also, some report not receiving a pillow with their order.
The Bottom Line: Wonderful Tibetan Singing Bowl Set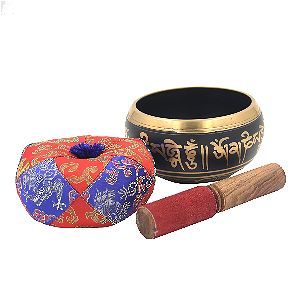 It helps to rotate the wrist while moving the whole arm, in order to get this singing bowl to really resonate. This line of bowls in a bit finickier in the sound department than some of the others, but it is definitely capable of making some beautiful, relaxing tones.
With so many options available on the DharmaObjects line of Tibetan singing bowls, these are a great selection for many starting out their quest for the right singing bowl. The wide variety of colors, and varied size options are nice features.
In general, getting a larger bowl will be more rewarding than a smaller bowl, as the quality of the resonant tone improves dramatically as the bowl increases in size.
DharmaObjects Tibetan Meditation Om Mani Padme Hum Peace Singing Bowl With Mallet (Large, Black)
BUY FROM ONLY AUTHORIZED ORIGINAL SELLER "DharmaObjects" TO ENSURE YOU GET THE AUTHENTIC HIGH QUALITY PRODUCT SHOWN IN PICTURES. ***Please report counterfeit third party sellers*** Look for "DharmaObjects" Brand logo on the package. Only Seller "DharmaObjects" offer a 30-day no questions asked money back warranty.
Bowl Measures approximately 5" Diameter, 3" Depth and weighs 700 Grams. - PLAYS EASILY with LONG LASTING clear space sound Perfect for Relaxation and Meditations
Each singing bowl set is hand selected & inspected to ensure the best sound and quality before shipping.
Price Includes Hand Etched and Painted Singing Bowl, 2 in 1 Wooden Mallet with Suede and Hand Sewn Donut shape Silk Cushion (Cushion Color May Differ)
Risk Free 100% Money Back Guarantee ~ When you order from authorized registered seller DharmaObjects in a Crush resistant DharmaObjects box as shown in the picture.
---