Roots of Being is reader supported. When you buy through our links, we may get a commission.
Looking for an invigorating massager to soothe those tired muscles and relieve pain? The HiDow Massager XPD12 is an intuitive and incredibly relaxing massager to relieve muscle aches and spasms. Combining 12 preprogrammed massage nodes with 12 different strength levels, the Acu-XPD is an all-rounder massaging unit. It uses TENS and EMS to soothe sore muscles, improve recovery, and provide relief.
The unit claims to treat chronic back pain, arthritis, inflamed joints along with neck and shoulder tension. However, is it really worth the hype? Does it actually deliver its promise? Read the following HiDow Massager Review and decide for yourself!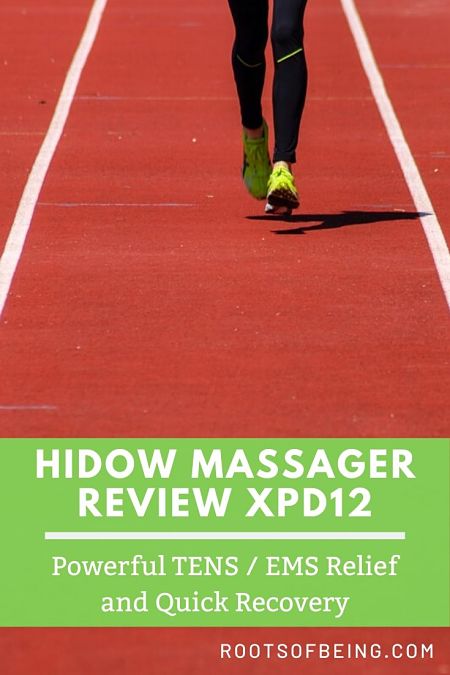 ---
HiDow Massager Review XPD12
The HiDow Acu-XPD12 uses Transcutaneous Electrical Nerve Stimulation (TENS) and Electrical Muscle Stimulation (EMS) to chase away muscle tension and pain. The device helps the electrode pads grind deeper into the muscles to release tight knots and invigorate the user.
Here's a breakdown of its main features, functionality, and how it really helps enhance your muscle flexibility.
Key Features at a Glance
12 pre-programmed massage nodes (6 TENS, 6 EMS) for back pain, arthritic pain, inflamed discs, neck and shoulder tension
20 different, adjustable levels of strength with variable frequencies
2 sets of self-adhesive conductive reusable pads with dual output design
TENS and EMS device for muscle atrophy, weakness, injury, painful joints, and prolonged bed rest
Portable, lightweight, durable design
Micro-current A and B for targeted microcirculation at the affected area
Acupuncture technology and Traditional Chinese Massage (Tui Na) sensations
User-friendly, adjustable timer
Durable, rechargeable batteries
2-year warranty
Dimensions and Specs
Dimensions: 3 ½" x 2 ⅛" x ½".
Weight: 0.095 ounces.
Technology: EMS and TENS
Output: Dual
Battery: Built-in Lithium battery
---
Hi Dow Massager Details
Acu-XPD12, with its multiple massage features, is definitely a powerhouse.
If you're new, it's best to start with a lower intensity and gradually buildup. This way, your muscles will adapt to the electronic muscle stimulator.
Now, let's get down to the meat of the review!
Aesthetics
From the first glance, XPD12 looks pretty old-school. The screen looks like something from out of the 90s. But the interface is intuitive and practical. You don't need to spend much time staring at the screen once you've got it set up.
It's much better to have an effective TENS/EMS unit with a clunky screen than a crappy massager with a slick interface!
The Hi Dow TENS XPD12 can be placed in your pocket as you workout with electrode pads on your shoulder, neck, or back. The aesthetics are a huge plus point for people who want a massage on-the-go. No need for the massage table here!
Functionality
Keeping features and looks aside, the Acu-XPD12 does, in fact, deliver what it promises. Customer reviews of the Hi Dow are extremely positive. And who have tried and for their nagging back pain and sore muscles have noticed a visible difference in muscle flexibility and energy.
Despite its multiple features, it's super-easy to use. What really makes it stand out is that it delivers quick results. The different intensities are an added plus, and result in a deep, grinding massage. You will wake up with a rejuvenated body the next day, as if you had been sitting in a massage chair for hours.
The impressive functionality of Acu-XPD12 is all because of the TENS and EMS nodes. The device uses this simple stimulating technology to release tension from aching muscles. People who face chronic pain can choose from acupressure, tapping, hot stone, and many more options to suit their needs.
You can easily switch from one intensity to another when your pain begins to lessen.
ACU-XPD12 doesn't make any fancy claims. It really treats and manages the cause of the muscle ache, no matter where on the body. The pads work hard to evenly distribute the blood flow and speed up healing. This is exactly what you're looking for: no BS, simple pain relief.
It's also gentle enough to be used after an injury and to manage chronic pain on a regular basis. However, users need to understand is that Hi Dow TENS Unit is not a cure-all solution to muscle ache.
It can be used additionally with other exercises and treatments for spasms, arthritic pain, and chronic back pain. When used in combination with lifestyle changes, the massager dramatically improves muscle flexibility and protects it from further damage.
What's Included
The accessories that come with HiDow XPD12 are:
ACU-XPD Device
1 large set of hand-shaped, single-sided adhesive electrode pads
1 extra large set of square-shaped single-sided, adhesive electrode pads
AC/DC travel-friendly Adapter
USB cable
Pad Holder
User manual
Material and Build Quality
The device is well-constructed, light-weight, and operates easily with a 2-year warranty. However, many customer reviews remind us that the small size of the XPD-12 means that it's somewhat fragile. The unit should be handled with care.
The electrode pads on the Hi Dow TENS unit have a thick, reusable hydrogel layer with non-woven material backing.
The gel pads stick nicely and have a long shelf life. The device has built-in lithium batteries that have longer, usable capacity and charge really fast.
Since the product includes only a few materials, there is rarely any chance of breakage or failure. The operating device is well-built, durable and works well with the hardy massage pads. Knowing that you can use the product during a vigorous workout is enough to believe in its heavy-duty strength. However, keep it in a safe place during your workout.
That said, you may need replacement TENS electrodes and gel pads over time. Check out how to clean TENS unit pads and how to make TENS pads sticky again.
Last update on 2023-05-28 / Affiliate links / Images from Amazon Product Advertising API
Assembly and Setup
Most customers find the device easy to assemble and use. The power button and options for changing modes is right below the screen.
Attach the electrode wires to the pads and make sure not to touch the gel on them.
Spray some HiDow Ion Conductor spray (not included) on to the pads to enhance adhesiveness. Now switch on the device and place the electrode pads on the affected area of the body. You can choose from 12 different modes and 20 different strengths for a customized electric massage.
The Ion Conductor Spray is optional, but is designed to increase the life of your conductor pads and to increase their effectiveness and impact.
Preparation Before Use
HiDow XPD12 doesn't require much cleaning or maintenance. However, there are special instructions you should follow when using it. Make sure your skin is squeaky clean – free of lotions, oil, and dirt. Before putting on the gel pads, wet your fingers and rub them on both pads. This will enhance their adhesiveness.
Take the gel pads right after you've finished using the device and cover them with the protective films or the pad holder. Unplug the electrode wires from the device and carefully place them back into the box.
If you're using it the first time, you'll have to charge the battery 8-10 hours before switching it on. But after that, you can recharge it whenever you want to. The batteries are charged using an AC adapter or a USB cable.
The TENS unit can be used up to a week with a single charge. In fact, the unit's timer allows you to turn off the device in 10-60 minutes. Keep the complete unit well-protected in a cool and dry place. This will ensure a long life of the product.
---
The Bottom Line: HiDow Reviews
The HiDow Massager XPD12 is definitely worth purchasing. It's a simple unit that does deliver what it promises – a powerful, throbbing, pain-relieving massage. Almost all the customers who have bought it like it for its usability, functionality, and durability.
It can be used on multiple areas of the body several times of the day.
The battery is extremely durable and will last you for a long time. Whether you want to relax or exercise, the massager will keep you company. Above all, its 2-year warranty makes it a safe purchase.
So, go ahead, invest in the Hidow XPD12, and enjoy a fully personalized massage and quicker recovery!
Last update on 2023-05-28 / Affiliate links / Images from Amazon Product Advertising API