Roots of Being is reader supported. When you buy through our links, we may get a commission.
Nothing feels better than a relaxing, soothing foot soak after a long day. When you're on your feet all day, pushing them to the limit, they need a little spa time! A home foot spa can provide incredible soothing, restorative comfort to your feet.
Aaah. Just what I was looking for.
Finding the right foot spa for your needs can be a challenge. In this article, we've reviewed 10 of the best foot spas available and included a buyer's guide to provide context and detail. We'll start with the best foot spa, the ACEVIVI foot spa with massager.
---
Best Foot Spa
Preview
Top Choice!
Runner-Up
Budget Pick
Top Choice!
Preview
Runner-Up
Preview
Budget Pick
Preview
Last update on 2023-11-30 / Affiliate links / Images from Amazon Product Advertising API
---
---
Key Points at a Glance
Acupressure and shiatsu massage
Heat and hydrotherapy
Automatic rollers
Infrared light
Built-in medicine box
Strong bubble stream
Eco-friendly frequency conversions
PTC water heater with secure insulation
Double overheating protection
Dimensions
Dimensions: 16.9″ x 14.6″ x 12.6″
Inside tank: 12.9″x 12.7″ x 8.5″
Weight: 10 pounds
The Details
The ACEVIVI Foot Spa is an excellent foot spa and is particularly suited for those who are really active. Since athletes push their bodies to their limit, they need to find healthy ways to relax their minds and bodies, especially tensed and tight foot muscles. Doing so can help them perform better and achieve their goals.
This is where ACEVIVI Foot Spa with Motorized Massager comes in. With a water capacity of 4L, it is 16.9 inches long and 12.7 inches wide – perfect to fit feet of up to man feet size 13 comfortably. It works silently so you can also enjoy a nice, quiet time during the massage.
If you are an athlete, any foot spa can help you unwind. However, with its advanced features, ACEVIVI Foot Spa with Motorized Massager can perform this task better than most other foot spas. It brings together the goodness and benefits of acupressure, shiatsu massage, oxygen bubbles, and heating and hydrotherapy in one tub. Furthermore, you can also add Epsom salt or essential oils of your choice to gain additional benefits from the foot soak.
Another notable and commendable feature of ACEVIVI is its Eco-friendly Frequency conversion feature. It features three modes – 300 W, 400 W, and 500 W. When you want to heat up the water, use high power settings.
On the other hand, when you want to enjoy consistent water temperature, set the foot spa on a low power setting. This eco-friendly conversion system can use up to 30% less power than the normal modes.
ACEVIVI also comes with a medicine box. This feature is particularly useful for athletes as excess strain on the feet, injury, and conditions like athlete's foot are more common among athletes than most other people.
The medicine box allows you to add medicines of your choice to the foot bath to treat any of these conditions without worrying about damaging the spa.
The ACEVIVI is the best foot spa for athletes, and for many others as well.
Last update on 2023-11-30 / Affiliate links / Images from Amazon Product Advertising API
Key Points at a Glance
2019 Updated Version
Efficient heating system
Bubble soak tub
Digital temperature control
3D automatic scrapping massage
Four automatic massage wheels
Easy and convenient to use
Drainage hose for an easy cleanup
Dimensions
Dimensions: 18″ x 15.4″ x 12.6"
Weight: 10.4 pounds
The Details
MUCHOO foot spa and massager is our runner up for top pick for a number of reasons. It is equipped with an efficient heating system that ensures consistent water temperature in the tub. The digital adjustable temperature controls make it easy to control the water temperature with just a push of a button. The MUCHOO bath massager is entirely automatic with four massage wheels.
Some people ponder the question of foot spa vs foot massage. With the MUCHOO, you get both!
As you soak your feet and relax, the massage wheel gently massages the soles of the feet, hitting all the right spots. The massagers apply just the right pressure, which is neither so light that the massage will be ineffective nor so hard that it'll be uncomfortable for the user.
Since the foot soak tub features a 3D automatic scrapper, this foot spa can also take care of dead skin to keep your feet soft, smooth, and crack-free. With 4L water capacity and 18″ x15.4″ x 12.6" tub dimensions, MUCHOO is suitable for almost all foot sizes.
Furthermore, it has splendid user reviews, and most users are ecstatic about it.
Despite being on the expensive side of the price scale, it is still a highly popular choice among users since it is durable, highly effective for relaxing tense and tired feet and offers good value for money. The drainage hose at the bottom is also an attractive feature for users as it allows for easy cleaning and maintenance.
Last update on 2023-11-30 / Affiliate links / Images from Amazon Product Advertising API
---
Key Points at a Glance
Heat therapy – No more waiting with fast heating
Built-in foot stone attached
Infrared light to eliminate bacteria
Oxygen bubble massager
Four Shiatsu massage rollers
Automatic timer for safety concerns
Dimensions
Dimensions: 17″ x 15″ x 9″
Weight: 5.5 pounds
The Details
Misiki foot spa can be your first step towards a healthy lifestyle. Since it has passed CE and ETL certification, you can rest assured about the quality and safety of this massager. Water heating temperature ranges from 95° to 118° F – perfect for relieving muscle tension and promoting metabolism. The heat circulates from heating holes located at the base of the foot spa to provide proper and consistent heating.
Furthermore, Misiki foot spa comes with four massager rollers that offer acupressure kneading massage for the soles of the feet to reduce muscle pain and soreness, and improve blood circulation. It is important to note that while massage rollers are removable, they are not motorized. You will have to move your feet over the rollers to enjoy a soothing foot massage.
Nevertheless, the rollers are designed to hit just the right spots on the soles to help you loosen up.
Another notable feature that makes Misiki one of the best foot spas is its Infrared Light feature. The infrared lights help sterilize the feet to keep them super clean and hygienic. It also kills bacteria in the footbath to ensure it is hygienic. This means you can use Misiki whenever you want without worrying about hygiene or spreading bacteria or fungus.
It is also aesthetically appealing and offers ample space to soak feet of all sizes. It is durable and offers great value for money – a perfect product for everyone.
While the product generally received great reviews, some users have shared concerns about the water getting too hot if you are not careful with the heating system. So, while Misiki comes with a built-in timer that shuts off the machine after an hour of continuous use, it is advisable to be vigilant about the heat therapy feature.
It is also not a good idea to add Epsom salt or any other similar products to the tub for a foot soak. Doing so can lead to blocked heating and bubble holes, which can damage the foot spa.
Last update on 2023-11-30 / Affiliate links / Images from Amazon Product Advertising API
---
---
No products found.
Key Points at a Glance
Four pairs of removable, nonmotorized rollers
Built-in overheat protection
Approved by FDA
Dimensions
Dimensions: 16.3″ x 13.6″ x 7.8″
Weight: 5.1 pounds
The Details
No products found.
MaxKare foot massager offers next-level pampering for your feet. It comes with a fast heating system that is easy to control. The temperature ranges from 95° to 118° F, and you can accommodate it according to your liking. The built-in overheat protection feature makes sure that the water doesn't get too hot and your feet remain comfortable and cozy.
Apart from that, you can enjoy Jacuzzi-like bubbles that add a luxurious feel to the foot soak. MaxKare Foot Massager also vibrates rhythmically to help relax tensed muscles.
It is designed with four removable rollers. The rollers are not motorized so you'll have to move your feet over them to enjoy a foot massage. However, they have acu-nodes that allows for a calming foot massage.
It is important to mention here that while MaxKare Foot Massager enjoys good reviews, some users find it too small to roll their feet on the rollers while others have quality concerns. Nevertheless, the product has managed to make a name for itself and is considered to be one of the best foot spas available in the market.
No products found.
---
Foot Spa Buyer's Guide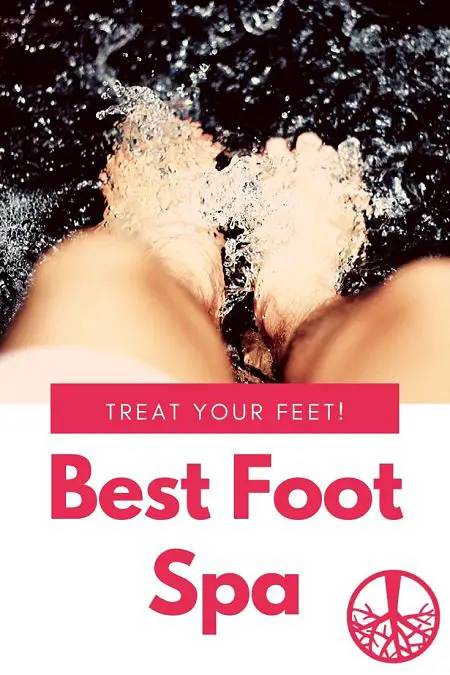 Who Should Buy a Foot Spa
Everyone who enjoys relaxing foot massages and loves to pamper their feet should consider getting a foot spa. With your at-home foot spa, going to the massage parlor to get a foot massage will become a thing of the past as you will be able to enjoy the best massage at home whenever you want.
It is also an economical option in the long run as, apart from the one-time purchasing cost, you won't have to spend anything on getting an invigorating foot massage at home. While a foot bath is beneficial for everyone, it is especially important for:
Athletes
People who remain standing for extended periods regularly
People who wear closed or tight shoes regularly
People who wear high heels regularly
People who run/jog/exercise regularly
People who wish to improve blood circulation in their feet and body
People who have trouble sleeping at night
People looking for a natural way to de-stress and reduce anxiety
People looking for a natural way to improve digestion
People looking to promote detoxification in the body
People struggling with dry or cracked heels
People recovering from foot or ankle injuries (advisable to consult a doctor before using a foot spa)
Important Features to Consider
A foot spa is an ideal way to treat yourself. It makes an equally good present for your loved ones. However, before you buy a new foot bath, it is crucial to take your time to learn a bit about this miraculous device. Also, it is advisable to always opt for good-quality foot spas to ensure durability and excellent, stimulating foot massages at home.
There are multiple factors that you must consider when it comes to buying the best foot spa. Keep in mind that a good-quality foot spa is a long term investment. Therefore, it is essential to make the right decision and buy a product that not only works for you but also fits your budget. Let's take a look at some of the most important features to consider while getting a new foot bath.
Motorized vs. Manual Rollers
The first thing that you need to decide is whether you want a foot spa with motorized or manual massaging rollers. Motorized foot spas come with automatic massagers that massage your feet as you sit back and relax. On the other hand, nonmotorized foot spas require the user to manually roll their feet over the rollers located in the tub to experience a relaxing sensation.
Both these types of foot spas offer an invigorating foot massage. While some people prefer foot spas with motorized rollers, others enjoy greater control with manual rollers. Also, keep in mind that motorized spas are generally more expensive as compared to their manual counterparts. So, it boils down to your personal preference and budget.
Safety Features
Your safety should be your first concern while using a foot spa. Therefore, it is best to look for a foot spa that offers adequate safety features to ensure user safety. Look for features like multi-insulation protection to protect against electric shocks and safety timers to automatically turn off the machine after a certain time period. It's even better if the spa is approved by FDA or boasts CE or ETL certification.
Size of the Foot Spa
This is perhaps one of the most important considerations when it comes to purchasing the best foot spa. You don't want to end up with a foot bath that is too small for your feet. Be extra careful about the size of the foot spa if you are purchasing a spa with manual rollers as you will require adequate space to roll your feet over the massage rollers.
Therefore, it is essential to check out the product dimensions of the foot spa before you purchase it. Remember, even the best foot massaging spa will be useless for you if you are able to fit your feet in it!
Budget
Try to find a good-quality foot spa within your budget. If you are on a low budget, consider getting a spa with manual rollers. It is important to understand that the most expensive option is not always the best one. You can find some of the best foot spas in a fairly affordable price range. The price of a foot spa generally depends on its features.
Choose the product that offers the right features within your price. Keep in mind that it is better to spend a few extra bucks and get the best foot spa instead of opting for a low-quality, cheaper option that is ineffective and a complete waste of money.
Massage Options
Different foot spas use different massage mechanisms. Some of the most common massage mechanisms include bubbles or water jets, multi rollers, and vibrations. Look for a foot spa that offers multiple massage options to experience the ultimate foot massage.
Additional Features
A foot spa can do a lot more than just massage the soles of your feet. Most good-quality spas come with multiple additional features, including built-in scrubbing stone, infrared light, bubble streams, drainage hose, etc. Find a foot spa that offers great value for your money and offers your favorite additional features.
Frequently Asked Questions
How can I use my foot spa at home?
It is advisable to read the foot spa manual for exact information on how to use your particular model. However, here's a general guideline to use a spa at home:
Place your foot spa on a flat surface. Fill it with warm water and activate the spa.
Adjust temperature settings and timer.
Add epsom salts or essential oil to the water (add additional ingredients only when you are sure they won't damage the foot spa).
Soak your feet in the water and sit back and relax if you have a foot spa with motorized massage rollers or move your feet over the rollers in your foot spa has manual rollers.
Enjoy a soothing massage!
Do I need salts and oils for a foot spa massage?
While the additional ingredients you add to the foot spa play an important part in improving the overall quality of the massage, it is NOT necessary to add salts or oils. In fact, some spas are not designed for salts or oils, so make sure you read the manufacturer's instructions before adding any additional ingredient. Once you are sure that these ingredients won't damage your foot bath, feel free to use them to enjoy added benefits.
Adding Epsom salt to a foot soak can help smoothen skin and fix ingrown nails.
Adding a few drops of your favorite essential oil can help the body relax and rejuvenate the senses.
Adding apple cider vinegar helps fight foot fungus and other infections to keep your feet in good shape.
How can I clean my foot spa at home?
Cleaning a foot spa is fairly easy. Empty the spa and remove any debris. Use detergent and warm water to clean the tub. Gently rub the walls of the tub using a soft cloth to clean thoroughly. If you notice a salt buildup, use a brush to scrub it away. Rinse the tub with sponge and water and let it dry. It is best to disinfect the foot spa by using bleach or antibacterial cleaners.
---
Other Products We Looked At:
Bringing together the best features of heat and hydrotherapy, shiatsu, and acupressure, Ivation foot massager is an affordable foot spa with two automatic massage rollers. Designed to offer a complete spa experience, it allows the users to set water temperature according to their liking and add salts and essential oils. It also has some interesting attachment options that allow users to expand the capabilities of this foot spa massager.
You can also activate the bubble feature to enjoy a complete foot spa.
However, keep in mind that while most users love Ivation Foot Massager, others have concerns about leaking and thermostat malfunction after the first few uses. So, if you are looking for a durable spa, you may want to skip this one.
Key Points at a Glance
Dimensions: 16.5 " x 14.9″ x 9.2″
Vibration massage and bubble jets
Three accessory attachments included – acupressure pedicure accessories, pumice stone, dust brush
Last update on 2023-11-29 / Affiliate links / Images from Amazon Product Advertising API
---
YUEBO Foot Massager offers a one-in-all experience with fully automatic massage rollers, bubble therapy, heating therapy, infrared light, and pumice stone. It also features three massage modes with different frequencies. You can adjust the temperature and massage mode for the ideal massage.
Double overheating protection, displacement wheels, and self-draining are some other commendable features of YUEBO Foot Massager.
The downfall of this foot spa is that it may take a long time to heat up. Some users also claim that the opening to fit the feet is not large enough to accommodate large feet. Apart from that, the majority of users have only good things to say about this spa.
Key Points at a Glance
Dimensions: 17.7" x 14.5" x 11 inches"
Infrared light and jet bubbles
Corn roller and shiatsu massage ball
Last update on 2023-11-29 / Affiliate links / Images from Amazon Product Advertising API
---
No products found.
The three primary functions of MaxKare 3-in-1 massager include heating functions, soothing bubbles, and intense vibration. Together these functions work to provide a relaxing and soothing foot massage. However, you can also activate them individually.
It is important to mention that the foot spa has four massage rollers and all of them are manual and removable. This means that when you are not in the mood to roll your feet over the sharp nodes of the rollers, you can remove them to enjoy more space.
One problem with MaxKare 3-in-1 massager is that it may produce a lot of noise. Furthermore, some users complain about water splashing out of the tub when they roll their feet over the massage rollers. Others have concerns about water leakage and ineffective vibration feature.
Key Points at a Glance
Diameter of spa tub: 13.5"
69 inches long power cable
FDA approved
No products found.
---
The all-in-one luxury, heated foot spa by Gideon comes with six massage rollers, two of which are motorized while the rest of the four are manual. This gives users more control over the type and intensity of the foot massage. You can set the temperature between 95° and 118° F and the foot spa will maintain it throughout the foot soak session. Furthermore, you can set a timer to customize a soaking session anywhere from ten to sixty minutes.
It is important to mention that while a lot of people recommend Gideon luxury heated foot spa, others have multiple complains. The most common complaint is that the machine keeps getting turned off every few minutes. Some people found that the spa completely stopped working in just a few days.
Key Points at a Glance
Dimensions: 15" x 17" x 11"
Water jets and six massage rollers
Waterproof buttons with digital control
Last update on 2023-11-29 / Affiliate links / Images from Amazon Product Advertising API
---
No products found.
With 14 massage rollers, bubble stream, vibration features, Turejo spa foot massager is one of the more affordable options. It has received mixed reviews from the users. While some find it highly useful and relaxing, others complain about ineffective bubbles and extremely light vibrations.
The small size of the tub is another problem as the massage rollers are not motorized, and users find it hard to move their feet on the rollers in the limited space.
On the bright side, the product is FDA approved for safety so you can use it whenever you want without any safety concerns.
Key Points at a Glance
Diameter of the spa tub: 13.7"
Pressurized water jets and 14 massage rollers
FDA approved
No products found.
---
Conclusion
A foot spa is a miracle product that can set you on the path to a healthier lifestyle. We hope this guide and review of the best foot spas  has directed to you the perfect one for your needs.
While there are multiple options available in the market, our top pick for the best foot spa is ACEVIVI Foot Spa Massager.
You can get this or any other good-quality foot spa to experience relaxing and invigorating foot massages that will not only keep your feet in optimal health but will also improve your overall health. It's time you make the right choice and choose the right spa.
Your feet will thank you!
Last update on 2023-11-30 / Affiliate links / Images from Amazon Product Advertising API
---