Roots of Being is reader supported. When you buy through our links, we may get a commission.
If you walk into your everyday spiritual, metaphysical, or crystal store, then more likely than not, you will come across a very distinct and slightly sweet aroma from the incense that's burning. This beautiful and exotic scent is called Nag Champa. 
Originating from India, Nag Champa is one of the world's best-selling incense, and its sweet and musky smell probably has a lot to do with that.
But what else does this popular incense have to offer, besides a nice fragrance? In this blog post, we'll share with you some Nag Champa incense benefits, so that you too can take advantage of what this beautiful incense has to offer.
---
Nag Champa Incense Benefits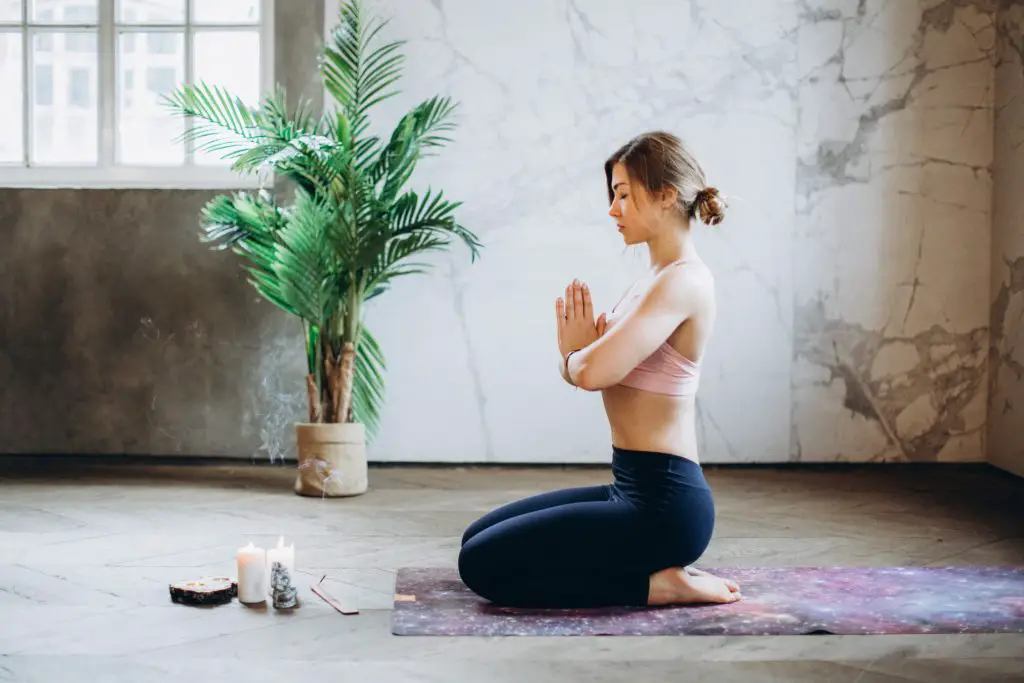 The beautiful scent of Nag Champa has been used by many people the world over, because of the many benefits this incense has to offer, one of which is that it helps to create the ideal environment for meditation and yoga studios and spas for aromatherapy.
Used in yoga studios and meditation centers around the globe, the burning of Nag Champa creates a fragrance that energizes the air to provide these spiritual spaces with the calmness needed to carry out your practice.
The aroma of Nag Champa incense also has the ability to relieve feelings of stress, so that it helps you to relax, and center yourself. And in these times of stress, using Nag Champa Incense in your surroundings can help you to unwind and find peace within yourself. 
Because the exotic aroma from Nag Champa can help you to relax, many people also use the incense in their homes to help them calm their minds and find a sense of inner peace, as well as get a good night's sleep. 
So, you can light some Nag Champa incense or nebulizer some Nag Champa essential oil before bedtime, light some candles, and turn your cell phone off. Create an atmosphere conducive to sleeping, if you suffer from insomnia. Just remember to extinguish the incense and candles before you fall asleep so that you don't set your home on fire!
The overall result is that Nag Champa gives those who use its fragrant aroma a sense of improved well-being. 
And improving your well-being means that you become more mindful, and your day-to-day life will end up feeling more enhanced and rewarding. You may even find that you have a new spring in your step, simply by lighting up a Nag Champa Incense stick.
---
The Spiritual Benefits of Nag Champa Incense
In spiritual and yogic circles, Nag Champa is highly regarded as a sacred scent, so it is used in spiritual practices to help create the peaceful environment needed to do this. This is why monks also use it for morning prayers, and many others for various religious ceremonies, and different special events.
These people believe that Nag Champa is able to bring about a secure space that is perfect for allowing the users of the incense to feel safe enough for all spiritual healing to take place. The calming and comforting power of the Nag Champa fragrance can also help to open your heart space, which will result in relieving feelings of anxiety and depression with long-term use.
The calming and comforting power of the Nag Champa fragrance can help to open your heart space, which will result in relieving feelings of anxiety and depression with long-term use.
In India, the fragrance is so popular that it is also used in personal care products, like perfume oils, lotions, and soaps. This means that if you love Nag Champa, then you can also wear the fragrance during the day to help your mind stay calm. You can also find candles sold that emit the Nag Champa aroma.
So, if you'd like to bring a sense of calmness and mental well-being into your life, lighting a Nag Champa incense stick or two every day will help to enhance these feelings of peace and serenity.
---
Nag Champa Meaning
In India, the frangipani flower is known as Champa, and it is one of the most revered trees in the Buddhist, Jain, and Hindu cultures. Frangipani is also known as plumeria, which is the natural flower of Laos.
In all of these places, this fragrant flower is rife with symbolism. For example, in Hawaii, it symbolizes romance and feminism, which is why women wear it in their hair. According to the Hindus, the Nag Champa flower represents the sanctity of the heart, as well as new beginnings, and prosperity. 
This is one of the reasons why in India and Bali, Nag Champa is used to decorate altars, and create offerings to their Hindu gods. The flower is also believed to remove negative energy, and purify the air, which allows for a sacred atmosphere at the altars where meditation, and prayer take place.
Nag Champa's ubiquitous fragrance became popular in the United States during the 1960s, when hippies traveled to India and Nepal, and brought the distinctive incense back with them after their travels. 
It is even rumored that 60's rock star Bob Dylan would have Nag Champa incense burning on stage during his concerts.
The soothing and earthly scent that Nag Champa emits was created by KN Satyam Setty, who was known as the King of Masala Incense, in 1964, on the same day that his eldest son was born. 
The fun fact of this though, is that Setty senior couldn't smell, because he lost that sense when he was a young boy himself. His son, named Nagaraj, is where the 'Nag' comes from. Champaca is the name of the tree where the Champa flower comes from.
Since then, Nag Champa incense has been used worldwide for its ability to connect us to the earth, as well as provide tranquil moods, and mellow vibes.
---
What Does Nag Champa Smell Like?
The delicious sweetness that is released from burning Nag Champa incense comes from the visually beautiful and exotic frangipani flower, which grows in tropical locations like Hawaii, Mexico and Central America, India, the South Pacific Islands, and South East Asian countries like Indonesia. 
If you've ever been to Bali, then that's the fragrant smell there's no escaping from, because you'll not only find it growing wild, but also decorating all of the altars dotted around the island.
But that's not the only scent you get from Nag Champa Incense, because the resin that you burn also contains sandalwood, a classic and aromatic wood that has been used for centuries due to its long-lasting bouquet.
The fragrance from burning sandalwood has long been used for cleansing ceremonies, and meditation, because its soft, warm, and creamy scent is believed to open up the heart chakra. 
Sandalwood fragrance is also used to uplift the soul, drive away feelings of aggression, and subdue feelings of irritability, and other harmful and destructive emotions.
The final ingredient of original Nag Champa comes from the tree resin of a tree called the Halmaddi, which is also known as the Indian Tree of Heaven. The sticky resin is used to bind the sandalwood and frangipani powders, which when combined create the Nag Champa incense loved by so many.
---
Final Thoughts
As you now know, there are many Nag Champa incense benefits that you'll receive from having this fragrance occupy your home, or even your place of work, if the situation suits it. 
Whether you use it to enhance your meditation or yoga practice, or simply to help you relax or sleep, Nag Champa can help you create a calming environment that will soothe your soul, and offer you the peace of mind we all need.
Last update on 2023-09-13 / Affiliate links / Images from Amazon Product Advertising API