Roots of Being is reader supported. When you buy through our links, we may get a commission.
The right scent can transform a space from dank and drab to uplifting, beautiful, and warm. Sure, you can use essential oil diffusers or scented candles to get the scent. But incense has magic that those other objects don't have. The smoke gives a visual focus, and the scents are often more powerful than candles and oils.
Incense feels holy and transcendent in a way that other scented objects don't.
You can burn incense sticks in your home, at your place of worship, outdoors, or anywhere you want. They make the place smell great and help you relax. Incense can be used for therapy and meditation. It can also be used as an insect repellant.
So what are the best incense sticks in the world? There are so many incense brands, scents, and variety packs for sale. This article goes deep into the topic of incense and looks at the best smelling incense sticks available, and the best scents.
While all of these incenses on our list have distinct qualities, there is a clear winner. You must try the best: Shoyeido Golden Pavillion incense.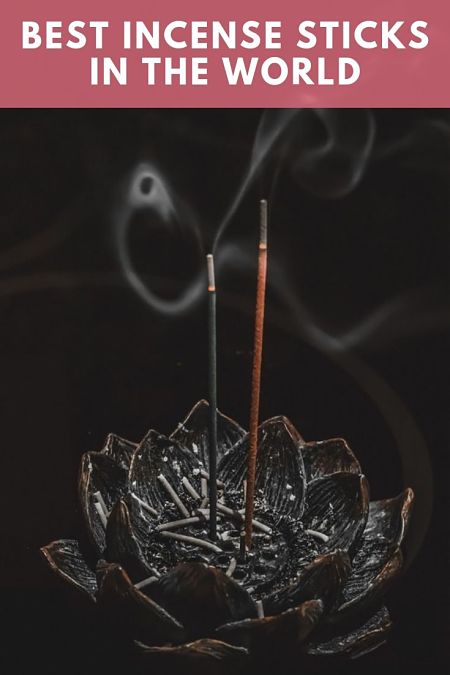 ---
This special box by Shoyeido contains 450 sticks of delightful Japanese incense. Each stick is a little over 5 inches long, but it is pure incense with no stem. This no support core technology is patented exclusively to Shoyeido.
This style of stick is often called "doop style" incense. Like most Japanese incense, it needs to be burned vertically in an incense holder like this one.
The aroma is all-natural, mild, and pure. No synthetic oils were used to make these high-end incense sticks. They are made in Japan using 300-year-old family-owned recipes. This particular recipe includes Sandalwood, Patchouli, and Cinnamon. This product is perfect for those looking for an earthy, spicy incense.
Japanese incenses are typically lighter and airier than the more common Hindu incenses. But in the case of the Golden Pavilion Incense, it is neither too subtle like some Japanese incense, nor is it too overpowering like many Indian incenses.
It is perfectly balanced.
There is no artificial perfume fragrance to Shoyeido's Golden Pavillion Incense. It has a woodsy, mild scent that is very calming. It is definitely mellow compared to Hem's incense (discussed below) or other incense sticks from India.
Even though it is mild, you can easily light it outdoors. It will give out a whiff of woodsy, spicy and slightly sweet aroma. Owing to the mildness of its scent, you can light it every day!
Why is it our top pick? These are the best smelling incense sticks around! They are also not as expensive as our second favorite, which also happens to be a Shoyeido incense. And even though it is pricier than the other options on our list, you get a lot of high-quality incense. The quality alone makes up for the price— plus 450 sticks are plenty to last you a long time.
Key Points at a Glance
450 sticks, 5.25″ long
Handy dispenser box
30 minutes burn time
All Natural
Last update on 2023-08-26 / Affiliate links / Images from Amazon Product Advertising API
---
Best Incense Sticks in the World
Preview
Top Choice!
Runner-Up
Budget Pick
Best for Potency
Best Variety
Name
Bless Frankincense and Myrrh
Top Choice!
Preview
Runner-Up
Preview
Budget Pick
Preview
Best for Potency
Preview
Name
Bless Frankincense and Myrrh
Best Variety
Preview
Last update on 2023-08-26 / Affiliate links / Images from Amazon Product Advertising API
---
Shoyeido's White Cloud incense comes in a gorgeous box and contains 450 incense sticks. Made from a decades-old recipe that includes Sandalwood, Clove, Spices, Patchouli, and benzoin, these high-end incense sticks have no synthetic oils or artificial scents.
White Cloud has an earthy-sweet scent that helps cultivate inner peace. You can light it every day without making your home feel heavy and pungent.
Even though the aroma is strong, it is not overpowering like some cheaper incense.
Like the other Shoyeido incense on our list, this one is in the doop style and does not have a stem. Again, this Japanese incense should be burned in a vertical position in a bowl-style Japanese Incense holder.
This definitely is a high-quality incense stick, with a delicate, pleasant aroma. It is not perfumey or overwhelming. It is perfect for meditation purposes.
Light it up at the beginning of your session, and it will burn for a good 30 minutes, with a mild lingering aroma.
The packaging is beautiful and secure. The incense is a bit fragile, so the sturdiness of the packaging matters a great deal, since no one wants broken incense sticks. Especially, given the cost of these!
Overall, the quality of the Shoyido White Could incense sticks makes them stand out as one of the best incense sticks in the world. This is high end incense for the discerning customer, and they are among the most popular incense sticks available.
Key Points at a Glance
450 sticks, 5.25″ long
Convenient dispenser box
Burn time—300 minutes approx.
No wood stem
All Natural
Last update on 2023-08-26 / Affiliate links / Images from Amazon Product Advertising API
---
If you're on a budget, you may look at the $20-50 dollar incense packages and shake your head. If so, take a look at Sai Baba Super Hit 100gm Incense. This pack has about 90 to 100 sticks, and each stick is around 10 inches long!
Marketed as having a more potent aroma than regular incense sticks from India, Super Hit definitely has a sweeter and even spicier scent than the regular Nag Champa. It also has that signature whiff of vanilla spice. This masala-based incense is made using natural bamboo sticks, just like the Nag Champa incense by Sai Baba discussed below.
Considering its price, this particular set of incense sticks is definitely a steal. It is very popular on Amazon, and gets a large number of 5-star reviews.
On the downside, this product has evolved a bit, and it appears the newer version lacks the standard vanilla spice aroma of super hit. The vanilla seems to have been replaced by a more generic incense scent. Additionally, the sticks frequently go out, and have to be relit multiple times.
And lastly, they produce a lot of smoke.
Even though this is still a great product to buy given the price point, the manufacturers need to improve the packaging front. The box containing the sticks is not secure enough to keep the incense safe, and some sticks get crushed in transit.
Key Points at a Glance
100g box
90-100 sticks
Good value for money
Strong aroma
Made in India
Last update on 2023-08-26 / Affiliate links / Images from Amazon Product Advertising API
---
Looking for particularly-potent incense? Look no further! Bless' Frankincense and Myrrh incense sticks are powerful and classic. These incense sticks burn evenly and for a good amount of time. One stick is enough to fill your whole room and adjacent areas with a sweet, full fragrance.
The aroma lasts for about a day!
These 100% natural, handmade incense sticks take about a week to complete. They are scented with Frankincense and Myrrh oils. They are 100% hand-dipped natural fiber sticks.
The initial odor might be too strong for some people, but once they burn, it releases a spicy, sweet aroma which is relaxing and not overpowering in the least.
This aroma is reminiscent of the scent emanating from Catholic churches and Hindu temples, and Frankinsence and Myrrh are Jesus-level scent choices.
The sticks might be shorter and thinner than advertised; however, the strong scent makes up for the length. They smell amazing and are quick and easy to light.
Frankincense is known to have a strong scent, but combining it with Myrrh neutralizes it. However, if you are expecting an earthy, spicy scent, then this product will not meet your needs. The scent is sweet and strongly perfumey.
Nevertheless, the incense does not smell like wood when it burns. This is a nice plus, considering a lot of incense sticks have this flaw.
These incense sticks arrive on time. The packaging is sturdy. The package is delivered in a sealed box, with all sticks securely wrapped up together in a sealed foil bag.
Key Points at a Glance
Hand Rolled with Essential Oils
Burn for 20-30 mins—aroma lasts for up to 24 hours
Made fresh on order
100% natural
100 sticks
Comes with an exclusive bestseller eBook Health Rich Wealth Rich
Last update on 2023-08-26 / Affiliate links / Images from Amazon Product Advertising API
---
The Karma Scents package is extremely impressive and comes with six fragrances and six incense burners. These are hand blended, hand rolled sticks from India. They are made with natural ingredients like herbs, essential oils, and wood gums.
It is a gift pack containing 180 sticks and six incense burners. It's an ideal gift choice for the incense-lover.
Each of the six fragrances (Lavender, Jasmine, Patchouli, Nag Champa, Sandalwood, and Vanilla) comes in separate, gorgeous gift packs, with each pack containing 30 of the same incense sticks. Each tube has a sliding top, both firm and snug, which helps keep the sticks fresh and secure.
Each stick is about 11 inches long, with plenty of wood at the bottom, making it easy to place it in any incense burner. The aroma has a smoky feel to it, but it actually blends well with the given scents. However, some people might find the smoky aroma to be a bit too much.
The problematic bit is that some of the sticks stop burning, and you may struggle to get them to burn again. Even when you are successful in lighting them up, they burn out again! Additionally, some of the sticks are also not sized right. They are either too wide or too thin.
The scent lingers for a while after the stick is out, though it does not get overwhelming or nauseating even hours later.
The plus point about having a separate 8-inch incense holder with each pack is that you can easily gift one or two packs, with their respective burners, to a loved one.
This is one of the most popular incense packages available.
Key Points at a Glance
180 sticks
6 varied scents
Each stick is 11 inches long
Naturally made
6 separate incense holders
Premium Incense Sticks, Lavender, Sandalwood, Jasmine, Patchouli, Nag Champa, Vanilla, Variety Gift...
Hand blended and rolled in India according to...
Contains all pure and natural ingredients,...
Includes one hundred and eighty Sticks and six...
Can be used for aromatherapy, Yoga, Meditation,...
Premium incense, each scent comes in individual...
Last update on 2023-08-26 / Affiliate links / Images from Amazon Product Advertising API
---
Incense Sticks Buyer's Guide
Who Should Buy Incense Sticks?
Anyone who loves soothing, calming scents!
Of course, incense is used for a variety of purposes.
Originally, incense was mostly used for religious, cultural, and spiritual reasons. But now people are using incense sticks for aromatherapy, as insect repellants, or simply as fragrance for their rooms.
Incense helps to create a relaxing, calm atmosphere. Different scents have different purposes.
You can burn mild incense for meditation at home, or traditional-smelling incense for a prayer hall. Incense is also used to ward off negative energies. Traditionally, Dragon's Blood incense, in particular, is used for that purpose.
If you're not sure about the format you want, see our article on incense cones vs sticks to determine the right one for you.
Important Features to Consider
Length of the Incense Stick
The length of your incense stick is a good determinant of the burn time. Sticks that are about 8 inches long tend to burn for about 20-30 minutes, while the longer ones that are approximately 12 inches can burn for up to an hour.
Get shorter sticks if you are trying out a scent or incense brand for the first time. That way, they won't cost you a lot, and you can use them up quickly if you don't like the scent.
Sticks come in varying sizes— from 3 inches to 14 inches.
Variety in Scents
If you are a first-time buyer, it is always a good option to buy a small pack that has various scents. This way, you can choose the scent you prefer. Next time, you can buy that particular scent in bulk.
Quantity of Sticks in a Pack
Buying in bulk is a good option when you are familiar with the brand and the scent. Many of the highest quality incenses are sold in bulk packages, and will certainly be cheaper per stick in this format.
Function
As we have discussed, various incense have various purposes. It is important to know the purpose of your purchase before you decide on the scent. For instance, you should opt for Lavender and Jasmine if you need incense that promotes relaxation.
But if you are buying incense for spiritual purposes, then go for scents like Sandalwood, Frankincense, and Myrrh.
Natural vs. Artificial
The highest quality incense sticks are made with natural ingredients. Virtually all Japanese and Tibetan incense is 100% natural. Many Indian incense sticks are also natural, but due to high demand and questionable oversight, some (even well-known) Indian incense have artificial scents.
These are of lower quality.
Natural incense is made with pure ingredients, like real herbs, and is actually designed for scent purposes.
Artificially prepared sticks are dyed to appear pretty, but they have a strong fragrance that can cause headaches and nausea. They can also cause allergies and breathing difficulties.
Note that you may come across "synthetic" incense in your search. These "synthetic" incenses are actually drugs like K2 and Spice, which somehow manage to get sold as incense, "not for human consumption". Stay far away from that stuff, even if you're looking for something more intoxicating!
An Incense Holder
Keep in mind you'll want some sort of tray or holder to burn your incense. But if you don't have that, here are a few ways you can burn incense sticks without a holder.
Frequently Asked Questions
Here are some of the most frequently asked questions about incense sticks:
How to burn incense?
Simply light the tip of the stick until it glows, then blow out the flame. Place the lit up stick in an appropriate incense holder. Keep the holder on a steady surface away from flammable materials. Be sure to clean your incense burner regularly to keep it working well, and prevent your incense from going out.
What do you put incense sticks in?
There are various incense burners easily available for this very purpose. You can light your incense and place it in the holder, which will keep the stick in place and collect all the ash, saving you the trouble of collecting it by hand.
The best holders are those that are nonflammable and sturdy.
Is incense bad for your health?
This depends entirely on the sort of incense you go with, and the ventilation of your space. Be careful when selecting incense and pick brands that are renowned to use natural ingredients for their incense sticks. Avoid picking out incense that is artificially made.
Incense does release smoke, which is likely not good for your lungs. It can be bothersome to cats and dogs.
Keep your home properly ventilated when burning incense and don't let too much smoke build-up.
---
Other Products We Looked At:
Shoyiedo Plum Blossoms Incense
Shoyeido is a tried and tested brand of incense sticks. This particular box of Plum Blossoms Incense has 150 sticks and each stick is a little over 5 inches long. These are doop-style incense sticks, and there is no stem. Burn time for each stick is about 10 minutes.
The recipe for this incense includes sandalwood, cinnamon, and saussurea. The aroma of this incense stick resembles the scent of a spring forest. It is a great scent for inducing relaxation and calm.
This particular incense has a smoky scent once it starts burning, which is not true for Shoyeido's signature incenses. Even though the scent is overall subtle and stays in the background, it might be a bit too sweet for some buyers.
Even though these can be used every day for their subtle smell, you cannot use them to overpower a pungent smell. They are, however, perfect for meditation.
Since these are Japanese incense, they need to be placed vertically, either in a burner or ash pot, to burn properly. They will not burn appropriately if kept at a bent angle.
The box is gorgeous and can be used for storage.
Key Points at a Glance
Last update on 2023-08-26 / Affiliate links / Images from Amazon Product Advertising API
---
These are the six best selling Hem scents over the last 20 years. Each fragrance— Dragon's Blood, Frankincense & Myrrh, Patchouli, Precious Lavender, First Rain, and White Sage— comes in a separate tube. Each tube has 40 sticks.
This product is worth the money due to the variety of scents and the large number of sticks. There is a free wooden burner with the set, but the quality is not that great.
Even though these are less expensive than Karma Scents' Variety pack, they appear to be scented with artificial fragrance and made with synthetic ingredients. This is why they are not listed in our top five picks.
They burn out nicely, though some burn quicker than others. Just make sure you don't leave them out of the package, or you may face trouble lighting them up.
There is a major packaging flaw—some buyers have complained about getting 6 packs of the same scent rather than 6 different scents.
Key Points at a Glance
Various fragrances
Free burner
240 sticks
Last update on 2023-08-26 / Affiliate links / Images from Amazon Product Advertising API
---
These are hand-rolled Patchouli Incense Sticks by HEM. They come in 6 tubes of 20 sticks each, all of which are packaged in one large rectangle box.
These incense sticks do not smell quite like Patchouli, which is earthy and natural; rather, they have a perfume-like, sweet, floral scent. It also has a woody tinge to it.
The smell seems to have shifted to this sweeter side over the years, with previous batches having a stronger Patchouli aroma.
The size of the sticks is not consistent— some are too thin.
They do light easily, though. Black smoke emits upon lighting, but it does subside once the sticks are lit fully.
The sticks burn for 20-30 minutes, but the aroma easily lasts over 2 hours. However, it is not great for overpowering bad smells.
The packaging makes it easier to share or gift one or two packs to a friend. The packaging is also secure and sturdy. The price is great for the number of sticks you receive.
The smell is also pleasant and woody, just not like Patchouli, though.
Key Points at a Glance
Six packs; 20 sticks each
Long-lasting scent
Last update on 2023-08-26 / Affiliate links / Images from Amazon Product Advertising API
---
Nag Champa Incense is perhaps the most well-known incense available. While it's decent, we encourage shoppers to look beyond this incense, though.
Each stick is about a gram, but size definitely varies since they are hand-rolled. Each 100 gram box has about 75-100 sticks, depending on the individual size of each stick. The incense sticks are said to be made from natural ingredients with zero synthetic substance.
The authenticity of the scent is up in the air— some buyers show utmost satisfaction with its sweet, earthy smell, while others believe it's too perfume-y and overwhelming.
This product has conflicting reviews. The older batch has rave reviews, with customers calling it high-quality incense with amazing burn time and the traditional earthy Nag Champa scent.
However, some customers have complained about the smoky, wood-burning scent, which does not have a Nag Champa fragrance. The leftover ashes are thick and dark, unlike the white fluffy ones associated with Nag Champa.
The packaging is below average. There is a chance that the box will arrive with a broken seal, with damaged, wet sticks, rendering them useless. Some of the sticks don't burn all the way as there is incense missing on some portions of the sticks.
Key Points at a Glance
2 packs, 100gm each
Natural ingredients
Hand-rolled
Last update on 2023-08-26 / Affiliate links / Images from Amazon Product Advertising API
---
Hem is one of the leading incense makers in India. This box of Dragon's Blood incense by Hem contains 6 packs, with each pack having 20 incense sticks. Each stick is about 9 inches long.
Even though the scent is quite unique and intense, it is not what people traditionally expect from Dragon's Blood incense. The intense wood-burning smell is too strong for some people. It overpowers the faint dragon's blood aroma.
The sticks come in a variety of thicknesses and a few of them will probably have chunks missing here and there.
They also cause a lot of black smoke, so it is best to light them in a room with an open window or maybe even outdoors.
Even though the incense burns too fast, the post-burn linger is quite strong.
Key Points at a Glance
Six packs; 20 sticks each
Long-lasting scent
Last update on 2023-08-26 / Affiliate links / Images from Amazon Product Advertising API
---
Conclusion
While personal preference has a major role to play in choosing your favorite incense, these were our top picks from a sea of varied incense sticks. Shoyeido's Golden Pavillion and White Cloud incense sticks are definitely the best ones in our eyes. The are airy, all-natural, delightful incense sticks. They're the best incense sticks in the world.
However, if they are a bit too pricey for you, then do check out our most favorite budget-friendly option, the Sai Baba Super Hit Incense. They have a strong aroma at a low price point and are also worth buying.
Last update on 2023-08-26 / Affiliate links / Images from Amazon Product Advertising API
---