Roots of Being is reader supported. When you buy through our links, we may get a commission.
Essential oil diffusers are great tools for creating pleasant-smelling environments, and also for (in some cases) providing calm, healing, and aromatherapy. If you have an open floor plan or just a large room you want to infuse with bright, delightful scents, you'll need an essential oil diffuser capable of handling large rooms.
In this article, I look at four of the Best Oil Diffuser for Large Room use, and discuss in detail each system.
Two are ultrasonic dispensers, which tend to be cheaper, and function as humidifiers and essential oil diffusers. The other two are nebulizing atomizers, which do not use any water, but rather simply expel the pure essential oils into the room.
---
Essential Oil Diffusers for Large Rooms

Spreading scent around a large room or open floor plan can be a challenge. If you have only a single point source, you can run into the issue where the location nearest to the diffuser is super scented while the other side of the room doesn't really have much of a pleasant odor.
If you have a fan or way of helping the air move around, you'll almost certainly have more success in balancing the room, and getting even, bright aromatherapy everywhere.
If you don't, then it's best to stick with high quality, large-capacity essential oil diffuser capable of handling large rooms, and using that.
Why choose an essential oil diffuser to perfume your home?
The answer is an easy one: they have therapeutic benefits and smell natural.
Plant oils are better for the environment than commercial perfumed chemical sprays and wood-laden incense sticks. Many of the chemicals and woods used in such products can actually harm the health of your family, pets, and even electronics.
Whereas natural organic oils can soothe your mind and calm your mood. Used correctly, they can also have a healing effect, such as relieving congestion.
The water spray in an oil humidifier does not cause dampness in any way and the essential oils actually attack the bacteria in any mold growth.
There are many ways to distribute the perfume of natural oils around your home. The most efficient way is to use a diffuser, most especially if you have large rooms. Even large rooms can benefit from the essence of essential oil perfumes.
---
Differences Between an Ultrasonic and an Atomizer Oil Diffuser
There are two major classes of essential oil diffusers: ultrasonic diffusers and atomizing oil diffusers. Let's look at both, and the differences, here.
Ultrasonic Diffusers
This type of diffuser works like a mini humidifier by spraying small amounts of water and oil into the air. You could not put essential oils into any type of humidifier because many standard humidifiers work by warming up the water. If oils are heated they may lose their therapeutic value, and perhaps their scent as well.
Using electronic impulses, the oil diffusers release a mixture of water and oil into the air. As this is done periodically, a few drops can last the whole day, spreading those amazing aromas around the room for an extended period.
This is ideal if you live in a dry climate, or in an area where you have low humidity in winter.
As this method waters down the oils, you are not in danger of inhaling any pure oil. You will continue to get that regular waft of sweet-smelling aroma throughout the day.
Ultrasonic diffusers are economical and easy to use by mixing the oils with water. If you use tap water you will also get all the natural minerals in the water too. Though the humidifier will need a regular clean to stop any residue from building up.
Atomizer Diffusers
Atomizer-style diffusers work in a similar fashion to a nebulizer. Instead of using water to disperse the natural oils, it uses air to evaporate the spray through a powerful jet nozzle.
Air passes through liquid oil at a high velocity, resulting in a gas-like spray of perfume.
This makes the perfume stronger, as it isn't diluted in any way.
The therapeutic aid of organic oils is more successful with this type of diffuser. If it is the power of healing that you seek, then this type of diffuser is the better choice.
Other Sorts of Diffusers
In this article, I am focused on the best essential oil diffusers for large rooms. There are other types of oil diffusers that may use evaporation or heating effects. These tend to cover smaller areas so you might need more than one diffuser within a large space, are out of the scope of this article.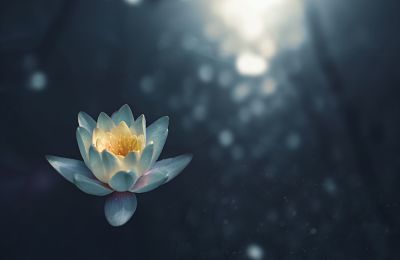 ---
Perfume or Healing?
If your goal is mainly to create wonderful calming scents and to experience a natural perfume in the air, then the Ultrasonic Diffuser is perfect.
To take full advantage of the healing powers of the natural oils, such as they are, you may want to aim for an Atomizer.
Both the ultrasonic and atomizing diffusers break down the oils into particles:
The ultrasonic diffuser dilutes the oils and releases particles below 20 microns. This means that the oils will only reach the nasal area but are too large to dissolve into the body.
The Atomizer particles are below 5 microns so they can reach the lower airways. Such particles are small enough to be absorbed into the lungs. As the oils dissolve inside the body, you will experience the healing powers of the organic oils.
Essential oils are great for those who are meditating, as well! The scent can be used as a meditation focus object, and the oils will almost always help calm and focus the mind.
---
Best Oil Diffuser for Large Room Reviews
In this section, we'll look at four of the best oil diffuser for large room use. We'll look at two ultrasonic models and two atomizing models. To get oriented, I'll start with a comparison table, and then move into individual reviews.
Preview
Preview
Preview
Preview
Last update on 2023-08-29 / Affiliate links / Images from Amazon Product Advertising API
---
1. Exqline Large Diffuser for Essential Oils
Key Points at a Glance
Super large water capacity up to 1500ml (1/2 gallon)
Mist control knob
Runs between 10-20-hours dependent on mists setting
BPA approved materials of specialist plastics
LED Lighting Strips
Safety feature of automatic shut-off and red light warning if water dries out
Warranty for 12-months with lifetime customer service support offered.
Dimensions and Specs
Size: 5.7 x 5.7 x 9.5-inches
Weight: 3-pounds
Whisper quiet noise level at less than 35dB
Humidity cover of up to 325 sq ft
Perfumed scent spreads up to 450 sq ft
The Details
The Exqline diffuser is not one of the most attractive oil diffusers, though it blends in well enough with the Google Home-style aesthetic.  It's not beautiful, but it has an impressive capacity that will blanket your open floor space in delightful scents!
In terms of lighting, again, there is nothing particularly remarkable about this unit. On the sides are strips of lighting that can be set to a specific color, allowed to slowly morph from color to color, or shut off altogether. Regardless, there is a small power light that remains on to let you know that it's running.
Exqline's diffuser is pretty easy to use. You'll start by removing the top cover and filling the tank with the water of choice. Then you'll need to add water-soluble essential oils of your choice (we have a few suggestions below).
This gives out a cold mist of water combined with the perfumed essential oils. The rate of misting is controlled by the mist knob.
There's not a whole lot of cleaning and care required with this unit. Simply pop open the top lid and clean out with white vinegar and warm water to dissolve any lingering residue.
How often you do this is dependent on the ratio of oils you use and how hard your water is.
Some users find that the scent of the oil doesn't last very long, which is a disappointment. In such a large capacity tank, you might need around 30-40 drops of oil when full. This is calculated at 2-3-drops per 100ml. Plus, you MUST use water soluble oils. If you don't then oil residue can block up the spray and stop it from working efficiently.
The power cord is molded into the unit and does not separate so this may limit where you can place your diffuser.
The Bottom Line
This is a machine with an excellent humidifying process due to the larger tank. The Exqline essential oil diffuser is a good choice for those looking for a set-and-forget machine with a large capacity, and a utilitarian look. It will run for 10-20 hours when the tank is filled, so you don't need to spend much time on this system once you fill it up.
Exqline has excellent customer service, and are helpful with troubleshooting and replacing parts when necessary.
Last update on 2023-08-29 / Affiliate links / Images from Amazon Product Advertising API
---
2. InnoGear Essential Oil Diffuser with Lights
Key Points at a Glance
Large water capacity up to 500ml
Settings of High or Low mist
Runs up 15-hours on Low mist and up to 8-hours on High
BPA approved materials of specialist plastics and iron
Dual functions: Humidifier, LED Dimmer Controlled Light, and Timer Settings
Safety feature of automatic shut-off if water gets too low
Warranty with InnoGear for 12-months. Extend this to 18 months by registering your model number product with them.
Dimensions and Specs
Size: 7 x 6.6-inches
Weight: 2.1-pounds
Power cable 5-ft 9-inch long-running on 110V mains voltage
Very low noise level at less than 40dB
The Details
The Innogear is an ultrasonic diffuser coupled with a night light that provides a gentle, warm glow to add to the ambiance of the essential oil aroma. Choose from seven different colors that can be set to a high or low glow. During daylight hours you can continue to use the spray mist, and switch the lights off.
The misty spray of oil and water can be set at High or Low, which is ideal for a big room. Added to this, you can also use the timer settings for 1, 3, or 6 hours settings, or run it continuously. Once you've set it up with your personal requirements, it runs quietly in the background.
Typically the Innogear will run for between 8-15 hours after being filled, depending on the setting you choose. If it starts to run low, there is an automatic shutoff system.
Standing in a vertical position, it has inner and outer covers. These are removable so you can access the pot inside to refill. When filling, it's important not to put water over the marked line in the measuring cup.
Also provided in the kit are a cleaning brush and an instructions manual. Clean with hot water and a drop or two of white vinegar, rubbing with the brush to get rid of any residual build up. This stops any clogging of the mist outlet.
By using essential oils and water, you can rest assured you're using the most natural way to perfume your home –  no nasty chemicals involved.
That makes it safer for your family, pets and even the indoor plants. It's also great for your meditation room!
Oil diffusers are better for the environment than commercial spray aerosols, or even the burning of scented candles. This model takes approximately 4-12 drops of essential oil in the 500ml pot, topped up with water. Of course, this depends on which oils you use and how strong you like the perfumed aroma.
The Bottom Line
The Innogear Ultrasonic Essential Oil Diffuser is a reasonably attractive, simple diffuser that provides light, warmth, and soothing scents in an elegant package. Innogear has a pretty good customer service reputation, and with their 18-month warranty (after registering), you can rest assured that your diffuser is covered for a while!
This is a solid choice for an essential oil diffuser for large rooms.
Last update on 2023-08-29 / Affiliate links / Images from Amazon Product Advertising API
---
3. TOMNEW Aroma Essential Oil Nebulizing Diffuser
Key Points at a Glance
Made from hand blown glass and natural vintage wood
Runs for a 2 hour cycle with 10 mins on and 20 mins off
Comes in 4 parts:  Wooden base, glass bottle, nozzle and adapter
Choose from 7 LED color lights
Warranty with for 12-months
Dimensions and Specs
Size: 7.4 x 4.3-inches
Whisper quiet air pump
The Details
TOMNEW has made this oil nebulizer out of natural materials, maintaining that there are no plastics parts. It is an attractive looking unit and the color of the lights enhance it with a dim glow. It has a funky design that is part ultra contemporary, part 70s vibe, and part Egyptian perfume bottle. It's… different, but definitely cool.
You cannot turn off the lights but you can change colors. And fortunately, the glow of the light is not significant enough to be bothersome in most cases.
This nebulizing essential oil diffuser requires 100% natural oils as there is no water added to this process. In order to keep it running properly, be sure to clean the unit once a week with an alcohol-based fluid. This helps to get rid of any residue build-up that might block the spray.
It's okay to simply clean with warm water on the odd occasion too.
The TOMNEW has a different sort of diffusing system than the other units on our list. When you turn it on, it will run for 10 minutes, and then cut off for 10 minutes. It will then automatically turn on at the 20-minute mark, and run for 10 minutes on/10 minutes off, for up to two hours.
It is designed this way to avoid users getting overwhelmed by the scent, and to give the diffuser time to rest.
After the two-hour mark, TOMNEW suggests keeping the unit off completely for 1 hour to recharge, and then restarting it. This is certainly a departure from the ultrasonic units that can be left on for 15+ hours, so if you like a set-and-forget system, this may not be ideal.
That said, the scent it produces is pretty strong, the whole system works well.
Some find that the glass is extremely fragile, so be careful with it. Also, sometimes the stopper between the glass and the base doesn't seal perfectly, and you'll see some of the oils being expelled from where the base meets the bottom of the glass. Functionally it makes no difference, but aesthetically, it looks nicer coming from just the glass piece.
The Bottom Line
The TOMNEW is pretty funky and has a cool style that will blend into a variety of decors while also being a conversation piece. The scent that emanates from the unit is strong, which is why the unit automatically shuts off once the timer has finished.
It should use around 10-15 drops of oil to last many sessions.
Last update on 2023-08-29 / Affiliate links / Images from Amazon Product Advertising API
---
4. Aennon Wireless Nebulizer with Rechargeable Battery
No products found.
Key Points at a Glance
Made from BPA approved specialist plastics
Can be set for 1, 2 or 3 hour cycles
Lasts between 20-50 hours depending on chosen setting
Includes 3 e-books on the art of relaxation care
Includes free 10ml bottle for refills and extra rubber washers for sealing
Powered by rechargeable batteries, and wireless when running
Warranty with for 6-months.
Dimensions and Specs
Size: 3.5 x 3.5-inches
Weighs 7-ounces
Whisper quiet air pump
Covers an area up to 1000-sq ft
The Details
No products found.
If you're worried about a fragile glass type diffuser, then try this BPE approved plastic model. It has an automatic shut-off in case it falls over, or when it runs out of oil.
It's also guaranteed not to drip, so long as the rubber seal is in place.
Both of these are great features and make Aennon a great choice for kids rooms or around pets where things might get knocked around a bit.
This type of diffuser does not destroy the health effects of the essential oils. Instead, it helps the oils to become more penetrable through the sinuses and into the lungs. As with all essential oil nebulizers, there is no water or heat used in the process. It uses a high-velocity spray to distribute the essential oils.
The unit can be charged through the mains using the supplied plug, or you can use a USB charger. It can also continue to run while charging if you want it to. When you choose your timed setting, it will turn on and off as the program is not continuous. This helps to make the batteries last longer. You can also change the setting for the small, medium or full amount of mist spray.
If you want to fit your own bottles into this model, they must be the 10ml size.
One issue some have come across is that the Aennon isn't quite as whisper quiet as it is presented. This one sometimes hums faintly when switched on. If you're a super light sleeper, this might be irritating.
It is a small and battery operated model, making it portable and easy to take to different rooms around your home. You can even run it in the car!
The Bottom Line
The Aennon has probably the least appealing aesthetic of the four units reviewed today. However, the fact that it is battery powered, guaranteed leak-proof and made of plastic means that it may be an ideal choice for those who want to use their essential oil diffuser someplace where it might get knocked over from time to time.
It also works quite well at expelling essential oils, so it is an excellent option for many looking for therapeutic essential oil diffusers.
No products found.
---
Suggested Essential Oils
Here are a few excellent essential oils to get your scent glands going! When dealing with large room essential oil diffusers, you'll likely be going through a decent amount of essential oils. It's generally wise to purchase larger-format bottles of these oils in order to keep the prices reasonable.
Whichever model you chose, essential oils bring the garden into your home with the natural fragrance of plants. From Eucalyptus that clears the sinuses, to cedar wood with an anti-fungal effect to cleanse the air. Or, try lavender to help you sleep or Frankincense to help you relax.
You can even combine oils for duality effects. Essential oils have a remarkable healing potency, as well as producing those exquisite perfumed aromas.
If you're regularly mixing oils, you should periodically clean your diffuser. See our article on cleaning essential oil diffusers without vinegar for more.
Eucalyptus oil is outstanding at clearing sinuses, brightening the mood, and smelling great. This 118ml bottle from ArtNatural Essential Oils is a great choice, as it is quite inexpensive, and has a great volume. The package also includes two additioanl sampler bottles of other essential oil scents.
Last update on 2023-08-29 / Affiliate links / Images from Amazon Product Advertising API
Handcraft's Lavender oil is a wonderful essential oil, also sold in a large 4 oz/ 118 ml bottle. These oils are great for use in a bedroom and will help calm you and your loved ones and help you find sleep.
Last update on 2023-08-29 / Affiliate links / Images from Amazon Product Advertising API
Peppermint oil smells amazing and is also quite effective at helping to clear sinuses and restore breathing function. The Pure Body Naturals Essential Oil is a great choice and is positioned at a great price, given the quantity provided.
Last update on 2023-08-29 / Affiliate links / Images from Amazon Product Advertising API
Another Handcraft essential oil, this Frankincense will bring you closer to god. Ok, maybe not, but it smells wonderful, and is exquisitely calming.
Last update on 2023-08-29 / Affiliate links / Images from Amazon Product Advertising API
---
Best Essential Oil Diffusers for Large Rooms
To sum things up, when shopping for a large room essential oil diffuser, you'll have two primary options: nebulizers and ultrasonic diffusers. The nebulizer models can be more expensive to buy than the ultrasonic oil humidifiers, though they are smaller in design. Which model is best for your personal needs will depend on whether you only want the perfume, or you want the health benefits too.
The ultrasonic models have the advantage of humidifying the air with misty water vapor. This is great when you've got the heating running in winter, which tends to dry the air out around your home.
Plus, you can run the ultrasonic without any oils should you want to only use the humidifying effect. More importantly, you will not get the health benefits from the ultrasonic, as you would from the nebulizer. This is because of the watering down of the oils.
If you decide to choose a model that also serves as a light, don't forget to make sure you have the option of switching the light off. Should you want to continue to run your humidifier at night time, the last thing you want is a bright light keeping you awake.
In the end, I generally lean toward the nebulizing essential oil diffusers, though in winter time, an ultrasonic one can work wonders for the improved humidification. Regardless, all of the options on this list today are quite good.
Last update on 2023-08-29 / Affiliate links / Images from Amazon Product Advertising API
---