Roots of Being is reader supported. When you buy through our links, we may get a commission.
Step into a spa and you'll see the mist that smells heavenly. That's an essential oil diffuser. Even when you're at the office, you can still achieve a heavenly and relaxing feel by diffusing essential oils.
Diffusers make it easier for the body to absorb essential oils when it's mixed into the air. These oils smell great and improve mood.
For the purpose of diffusing essential oils in the office, we've selected mostly ultrasonic diffusers. These do the job well without being too expensive.
We've combed through many diffusers to find the best essential oil diffuser for office use. We'll start with our top pick, the HoMedics Ellia Gather Ultrasonic Diffuser.
---
Key Points at a Glance
Large Reservoir
Quiet Operation
Color Changing Lights
Optional Music
Ceramic And Wood Material
Beautiful Basket-Weave Design
Dimensions
Dimensions: 6.9 x 6.9 x 5.1 inches
Weight: 3.31 pounds
Capacity: 200ml
Mist Mode: Continuous and Intermittent
The Details
If you're looking for an essential oil diffuser for your office that does it all, the Ellia Gather Ultrasonic Diffuser by HoMedics is for you. This is a remote-controlled ultrasonic diffuser it can be placed in the corner of the office and controlled from your desk. It's definitely a step above the pack in terms of quality, but that quality comes at a fairly high price.
As an ultrasonic diffuser, this does not produce heat. Rather, it diffuses through the mist produced by ultrasonic vibrations. This makes sure that the aromatherapy benefits of the essential oils are intact and still very effective.
Many are very impressed by how quiet this ultrasonic diffuser runs. That's perfect for the office because no one will be disturbed when it's on. Plus, it also offers an option to play some calming music while diffusing, which can help workers relax and focus on the job (just be sure to ask your coworkers before you turn it on!).
This diffuser is beautifully designed with real wood and real ceramic materials. It has a wicker-basket appeal that easily blends with most decor. It has a "real" presence that is missing from so many of the cheaper, plastic-looking diffusers.
A peek inside will reveal the large reservoir where you can add 200ml of water. This enables the diffuser to run for either 10 hours continuously or 20 hours intermittently. With that, you just have to set the diffuser once and it will last throughout the day.
The Homedics Ellia even has an auto shut-off feature that comes in handy when you accidentally forget to switch it off. It also has color-changing lights and it is very easy to clean. This diffuser also comes with a remote, AC adapter, 3-pack essential oil, and 30-day money-back guarantee.
Although this diffuser is on the expensive side, it still has a lot of features that make it a worthy buy and our top pick.
Sale
Last update on 2023-11-28 / Affiliate links / Images from Amazon Product Advertising API
---
Best Essential Oil Diffuser for Office: Comparison Table
Preview
Top Choice!
Runner-Up
Budget Pick
Top Choice!
Preview
Runner-Up
Preview
Budget Pick
Preview
Preview
Preview
Last update on 2023-11-28 / Affiliate links / Images from Amazon Product Advertising API
---
Key Points at a Glance
Whisper Quiet Technology
Auto Shut-Off Feature
7 Color Changeable Light
Small and Compact
Different Designs Available
BPA Free
45-Day Money-Back Warranty
Dimensions
Dimensions: 3.6 x 6 inches
Weight: 270 g
Capacity: 100ml
Mist Mode: Continuous and Intermittent
The Details
The Ultrasonic Diffuser by QUSUP is in second place on this list. Its also a very well-designed ultrasonic diffuser but it doesn't have music in it, unlike our top pick. Nevertheless, it still performs well as a diffuser as it also offers two modes of misting, continuous and intermittent.
This diffuser by QUSUP has a smaller capacity than the Ellia, at 100 ml. But that smaller reservoir makes this unit nice and compact: perfect for a desk essential oil diffuser.
It shuts-off automatically when it detects a low water level to prevent damaging the unit. Also, there is no heat involved in the misting so it's safe even for the most curious officemate.
It also has a light function, and there are seven colors to choose from. Customers really loved this feature because it produces a beautiful backlight to the silhouette design of your choice. There are several nature-related designs available like a butterfly, moose, tree or an owl.
With the whisper-quiet technology, this diffuser won't disturb or be a source of annoyance to anyone. It's very easy and simple to use but some may find the beeping of the buttons when pressed to be annoying. We also want to note that , many agree that the customer service is superb. Users who got a defective product immediately had a refund and some even had a replacement sent for free.
Sale
Last update on 2023-11-28 / Affiliate links / Images from Amazon Product Advertising API
---
Key Points at a Glance
Dual Misting Modes
Whisper-Quiet
Color Changing Light
Different Colors Available
Compact Design
Dimensions
Dimensions: 3.1 x 5.5 inches
Weight: 9.6 oz
Capacity: 100ml
Mist Mode: Continuous and Intermittent
The Details
URPOWER's 2nd Version of their Essential Oil Diffuser gives hope to even those with a very tight budget. At a surprisingly low price point, this home office diffuser can make your workspace smell pleasant, and keep the environment relaxed. It definitely has a plastic-y look, and it's made with cheaper materials that some of the other units on our list. But it functions very well, and it's a great price point!
There are two modes of misting for this unit. The continuous mode lasts for 3 hours and the intermittent mode lasts for 6 hours. There is an LED light indicator so it's easy to tell which mode it's currently on. A red indicator light means it's on continuous mode while a green indicator light means it's on the intermittent mode.
Apart from the price, it also performs well and many agree that it can really fill up a small room with a selected scent. The compact size and design make it perfect for the office because it won't take too much space on the desk. However, some found it to be too weak for a bigger space. It's just suitable for a cubicle or a small office.
This ultrasonic diffuser is all white in color. When it lights up, the body of the diffuser glows in the chosen color. Apart from the solid white diffuser, it is also available in a wooden design in the color yellow, brown or grey and white.
Last update on 2023-11-28 / Affiliate links / Images from Amazon Product Advertising API
---
Key Points at a Glance
2 Modes of Misting
Doubles as a Lamp
Auto-off Feature
Crystal Design
Dimensions
Dimensions: 5.5 inches tall x 3.5 inches base width x 5.5 inches center width
Weight: 1.75 lbs
Capacity: 100ml
Mist Mode: Continuous and Intermittent
The Details
If your office is in need of a little bling, try this Rose Gold Crystal Diffuser by Royal Living is the perfect choice! Upon opening the box, buyers are impressed by how good this diffuser looks. The rose gold color and crystal design can easily glam up even a boring office space.
Beyond its charming looks, this diffuser also performs extremely well. Its 100ml tank is capable of lasting 4 hours on continuous misting mode and up to 8 hours on intermittent mode. It also runs quietly so you won't be disturbed while it's running.
This diffuser also doubles as a lamp. It can be used with only the lights on, only the diffuser on, or both on. The intensity of the light is customizable, and it even has a flicker mode to resemble a candlelight burning.
The Royal Living diffuser is easy to use: it only has two buttons. One button controls the misting mode and serves as the on/off switch. The other button controls the light intensity and also turns it off. It also has a safety auto shut-off feature.
Most customers really loved the way it looks because it can be used as part of the decoration. It's a good multi-functional piece for the office.
Last update on 2023-11-28 / Affiliate links / Images from Amazon Product Advertising API
---
Key Points at a Glance
3-in-1 Multifunctional Diffuser
Contains Himalayan Salt Crystals
Quiet Operation
2 Mist Modes
Changeable Light Colors
Dimensions
Dimensions:3.6in X 3.6in X 5.5in
Weight: 1.3 lbs
Capacity: 120ml
Mist Mode: Continuous and Intermittent
The Details
More than just an essential oil diffuser, the AIGOCEER also works as a Himalayan salt Lamp. This design features Himalayan salt crystal granules enclosed in a plastic shell. The light of the AIGOCEER shines through the granules and releases negative ions for purported health benefits.
It has two modes of diffusion, one is continuous and the other is intermittent. This will last for 4 hours and 8 hours respectively. One common observation by other users is that there is moisture forming underneath especially when the lamp is used during wintertime. Some say this might be due to water condensation of the mist.
Some users also say that the reservoir is too small, but it's actually the perfect size for the office. It has a cylindrical shape that won't take up too much space on your desk.
There are also two color options available for the metal parts of the diffuser. Choose between bronze and silver.
This also works well as a general desk lamp. There are 7 colors to choose from. It is also possible to let the colors cycle through while misting. The salt granules plus the location of the LED lights create a beautiful ombre effect.
Last update on 2023-11-28 / Affiliate links / Images from Amazon Product Advertising API
---
Oil Diffuser for Office: Buyer's Guide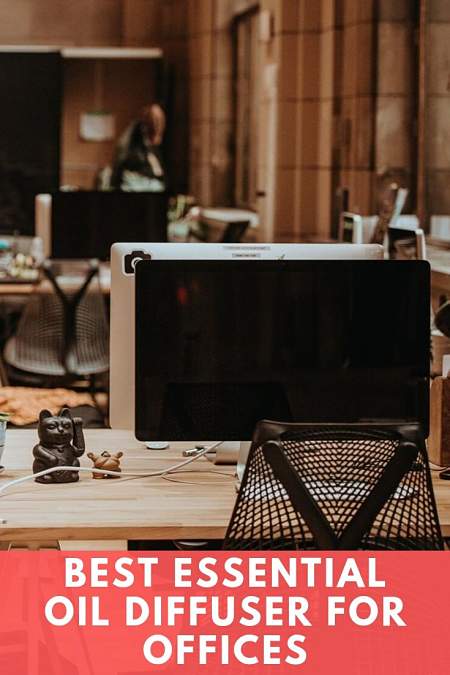 What Are Essential Oil Diffusers
Essential oil diffusers distribute essential oil particles into the air not only for fragrance purposes but also for aromatherapy. Different essential oils can cause a variety of things in the body. Some can be calming and relaxing while others are more invigorating and awakening.
A good place to start when shopping for Essential Oils is to pick up an Essential Oil Starter Kit.
In order to spread them in the air, there are different kinds of diffusers that can be used. Such diffusers can be roughly categorized into the following:
Nebulizing Diffuser
With this kind of diffuser, the essential oils are pressurized and pushed through tiny tubes known as atomizers. This process breaks down the essential oils at a molecular level and releases them as a fine mist in the air.
This does not use heat at all so the essential oils don't chemically change. Also, this uses pure essential oils so it releases a more potent mist. Essential oils are not that cheap and some may find that it consumes a lot in a short period of time. These diffusers may also be more expensive than the others.
Ultrasonic Diffusers
Ultrasonic essential oil diffusers are the most common kind of electric diffusers available in the market. They make use of electronic frequencies to release the essential oil into the air. This type of diffuser requires water and it is the water and oil that creates the fragrant mist.
It's the ultrasonic vibrations that agitate the water and oil to cause separation of the oil particles at a molecular level. The negative particles are released as a fine mist that mixes with the positive particles in the air.
This type of diffuser is commonly known as a humidifier because it doesn't only spread essential oils into the air but also moisture. With this, the essential oils are somewhat diluted with the water making them last longer. This is more favorable for those who want to stretch the use of their essential oils
Evaporative Diffuser
This kind of diffuser uses wind power to spread essential oils in this air. The drawback of this kind of diffuser is that the lighter oil components diffuse first while heavier essential oils will typically be diffused last. This negatively affects the therapeutic properties of essential oils.
Some examples of this kind of diffuser include a fan blowing over a cotton pad that has drops of essential oil in it. Others use rattan or reed sticks that have a small part soaked by essential oil. Through the capillary phenomenon, the essential oil reaches the unsoaked parts that are exposed to the air where it can evaporate.
Heat Diffusers
Heat diffusers are similar to evaporative diffusers but they work faster because of the added heat. Heat can be provided through heating ceramic diffusers or through a small candle under a ceramic plate. A drop of essential oil is placed on the plate and allowed to evaporate.
Heat diffusers like evaporative ones can also negatively affect the therapeutic properties of essential oils. While heating, the essential oils don't evaporate all at the same time. There are some which evaporate faster than others that's why the therapeutic benefits are compromised.
For this review, we focused on the ultrasonic diffusers. They are the most available in the market today and they are one of the best kinds wihout being too expensive for office use. They effectively spread the essential oils in the air without the risk of scalding yourself as compared with other heating units.
Who Should Buy an Office Diffuser
Many people can benefit from essential oil diffusers in the office. For starters, office workers who want to feel less tense and more focused on their work can use them with appropriate essential oils. Through aromatherapy, they can use various mood-lifting properties of various essential oils. Combine the essential oils with some kava, and you will have a relaxed, focused office.
Employers should also buy an essential oil diffuser for the office to help provide a better working environment for the employees. With a better ambiance plus the effects of the essential oils used, productivity can be boosted.
Essential oil diffusers are also great for people who meet up with clients. They do not only serve to improve the scent of the room but they can also be a beautiful piece of decor. A relaxing room also makes it easier to seal the deal because the clients are already in a good mood.
This diffuser is also great for the home office, a playroom, a bedroom, or study area. Most of the essential oil diffusers for office are small so they won't take too much space. With a small size, most are also more suitable for smaller rooms. See here if you're looking for a large-room diffuser.
Important Features to Consider
Ease Of Use
Most diffusers are fairly simple to operate. It should be easy to access the reservoir by disassembling the unit. Similarly, it should also be easy to reassemble the unit back and ready for operation.
Turning it on/off or selecting misting modes as well as other options should also be easy to do or easy to learn how to do. Some diffusers have buttons while others have knobs. Some even come with remote controls.
Even if the diffuser has a lot of added features, it should still be simple to use especially when you just want it to diffuse your selected essential oil.
Safety Feature
Essential oil diffusers may come as ultrasonic diffusers. These produce a cold mist and water isn't heated in the process. This is much safer than using diffusers that heat up. Plus, using cold mist ensures that the essential oils used aren't burned and are still intact.
Another safety feature to look for is the auto shut-off feature. Sometimes, this is also called the waterless auto-off feature. With this, the diffuser automatically stops diffusing when it detects that the water levels are low. This is why you should always make sure to place the diffuser on a leveled surface.
Compactness & Portability
Not all offices and cubicles are huge and there may be a lot of office materials at your desk. A smaller and compact diffuser will help make sure it doesn't take huge space on your desk just to provide you with aromatherapy.
Aesthetic Flare
Another noteworthy feature for essential oil diffusers for office is the aesthetic value. This diffuser may or may not be seen by other people. Even if the only one who sees the diffuser is you, having an attractive, sculptural diffuser is certainly nice.
With the variety of diffusers available in the market today, there will surely be one that suits your style and preference. The style of the diffuser can also be based on the style or theme in the office.
Water Capacity
Although the reservoir of most compact diffusers is small, they can still be useful throughout the day in the office. A huge reservoir isn't really necessary as long as it can last throughout a day at work.
Leak-Resistance
Some diffusers have been known to leak. You don't want that to happen in an office, on a desk filled with computer equipment or paper! The best office diffusers shouldn't leak.
Frequently Asked Questions
Can it run without water or without essential oils?
Essential oil diffusers can run without essential oils. They'll just act as a humidifier that adds moisture to the air without the scent or the benefits of aromatherapy. On the other hand, it cannot run without water even if you use carrier oils or pure essential oils.
Diffusers typically use water to carry the oils into the air. If you're looking to use essential oils for aromatherapy without water, then you have to get a nebulizer instead of a diffuser.
Can This Be Harmful To Pets
Diffusers are usually safe even around animals but users must be careful about the essential oils diffused. There are some essential oils that are not advisable to use, even though aromatherapy when pets are around. See our essential oil list for details on individual oils.
Will essential oil diffusers set off smoke alarms?
No. Smoke alarms or fire alarms will not be set off by the mist released by the diffuser. The released mist is moist and cold. It's not like smoke that's a mixture of hot gasses and other burnt particles.
The smoke alarm will not recognize the mist as smoke from a fire.
---
Other Products We Looked At:
No products found.
For larger offices, this diffuser humidifier by Asakuki will fit perfectly. It has a large reservoir that can hold up to 1.5 L of water. It claims that it can last for up to 20 hours but that is only true when it is in the lowest setting. If you run it on the highest setting, it will diffuse for about 5 hours before the water runs out.
Many agree that it works great as a diffuser because it produces a lot of mist without being too noisy. But some find the plastic material to be low quality. Some also didn't like that whenever they refilled the diffuser, water would usually drip down from the cover.
This diffuser also lights up and there are 7 colors to choose from. The lights can also be turned off while diffusing. Additionally, there is also an auto water-less shutoff feature for safety purposes.
Key Points at a Glance
Big enough to cover 300-450 sq ft room
Auto Water-less Shutoff
Up to 20 hours of use
No products found.
---

The Odoga Aromatherapy Diffuser is another beautiful diffuser that you can be proud to place inside your office. It is a decorative piece that features a golden iron cage design. It's both classy and modern at the same time and many people agree that it's easy to match.
One of its great features is the remote-controlled operation. The remote has 4 buttons: power, light, mist mode, and brightness. The only drawback to this kind of unit is if you lose the remote and you can't
It's a compact diffuser that also doubles as a beautiful lamp with a candlelight effect. It can be used with the mist and light on, only the mist on or only the light on.
Although most people love it for its appearance, some complain about the size of the reservoir. Some users were disappointed because they can only use it for a few hours then it needs to be refilled again. Many users wished it came with a bigger reservoir.
Key Points at a Glance
Remote Controlled
Beautiful Design
Also Works As Mood Lighting
Last update on 2023-11-28 / Affiliate links / Images from Amazon Product Advertising API
---

Add a more natural appeal to your office with the InnoGear Real Bamboo Diffuser. Bamboo is a renewable material and is easily grown. It is one of the more environmentally-friendly materials. Although it's natural, some customers discovered that their units started to grow mold between the bamboo and the plastic container.
There are two misting modes and a timer in this unit. Although it does mist when you fill it up below the max line, many users reported seeing condensation or puddling on the unit. This is because of the design of the diffuser to release the mist in an upward manner rather than at an angle outwards.
For the light option, there are 7 different colors to choose from. The box included the diffuser, a user manual, an adapter, and a measuring cup. All in all, it's an okay product but you should always clean and check it for molds.
Key Points at a Glance
Real Bamboo Material
Two Sizes Available
Includes A Timer
Last update on 2023-11-28 / Affiliate links / Images from Amazon Product Advertising API
---

The URPOWER Wood Grain Diffuser is another good choice for office essential oil diffusion. It has 2 mist modes, namely continuous and intermittent. The continuous mode runs for 3-4 hours while the intermittent mode runs for 6 hours.
This compact diffuser features a wood grain design coating. The coating is available in dark brown, black & grey, and yellow. Its simple wood design is suitable for use at home or in the office. It also has color-changing LEDs for even better decoration.
Many users that it's a straightforward diffuser with an LED light. Although it works, it isn't the best on the list. It's small and compact, meaning there is also a small reservoir. The lights are also discreet and some people love them for that.
Key Points at a Glance
Compact Design
Adjustable Mist Mode
For Rooms Up To 215 sq Ft.
Last update on 2023-11-28 / Affiliate links / Images from Amazon Product Advertising API
---

Combining beauty and function, Round Rich brings this ceramic diffuser as a good contender amongst other compact diffusers. It features a white ceramic, pineapple-shaped body with a wooden base. The 7 colored-LED lights also add to the aesthetic value of this diffuser. A single color can be selected or all the colors can be cycled.
This produces an ultra-fine mist for easier absorption of the body and to help easily mask out stubborn odors. The fine mist may also be the reason why some people are not satisfied with the mist produced by the unit.
Many say that it is perfect for small spaces like an office but the scent it produces can't cover a larger room. Some also observe leakages in their units.
Key Points at a Glance
Micro-fine Mist
Beautifully Designed Ceramic
Auto Shut-off Feature
Last update on 2023-11-28 / Affiliate links / Images from Amazon Product Advertising API
---
Conclusion
There may be many essential oil diffusers in the market but only a few are suitable for the office setting. Toping that list is the HoMedics Ellia Gather Ultrasonic Diffuser. This has everything you need in a diffuser and so much more.
It's very easy and convenient to operate with the included remote control. It also has various misting modes, a light option as well as sounds. It has everything you need in a diffuser plus it also looks great on your desk or at a corner in the office.
Coming in close at second place is the QUSUP Ultrasonic Cool Mist Diffuser. It is a compact diffuser that is available in various impressive designs. The LED light feature in 7 different colors also accentuates each design better. It also performs very well even with the small capacity.
Budget-conscious customers will be glad about the price of the URPOWER Essential Oil Diffuser (2nd Version). It's a simple and affordable essential oil diffuser that does the job. It may not look as great as the other top two and it may not have extras features like sound but it performs very well as a diffuser.

Last update on 2023-11-28 / Affiliate links / Images from Amazon Product Advertising API
---