Roots of Being is reader supported. When you buy through our links, we may get a commission.
Kava is an extremely pleasant mild sedative and relaxer that has been enjoyed throughout Polynesia for millennia. It spread through Oceana, and has become popular throughout the world. Kava kava is an excellent replacement for more harmful substances like alcohol and Xanax.
Many who come to Kava are attracted to its wonderful relaxation properties, coupled with the fact that it's non-addictive and helps with sleep. Unfortunately, the traditional process of making kava is somewhat involved and requires effort to kneading the kava root.
Lots of kava users wonder whether you can just consume the raw root, using the "Toss and Wash" method that many Kratom-enthusiasts use. Is Kava Toss and Wash a good idea? Let's go over the details.
---
What is Toss and Wash?
Toss and wash is a phrase that comes from Kratom users. Many people who take kratom use the toss and wash method, which essentially means toss a spoonful of kratom powder in your mouth, and wash it down with water.
This method is obviously very simple, and doesn't require any preparation, no need to make tea, no filling capsules, etc.
No need to do much of anything other than take a spoonful, then take a drink. We get the appeal!
But can you use the same method to consume kava? Many kratom users are switching over to kava, as it is a much healthier choice. Can you take it the same way?
---
Kava Toss and Wash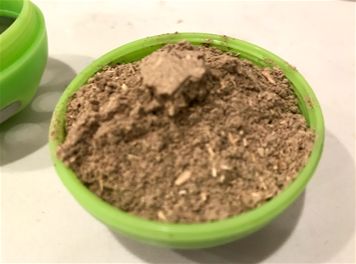 The attraction to consuming raw kava root in the kava toss and wash method is obvious. Kava preparation can be a big hassle, and the traditional method of squeezing and kneading a kava bag is a lot of work.
It's messy, requires setup and cleaning, and takes a while. It's enough for many users to say they don't want to bother making kava kava at all!
It would be so much easier to just gulp down the raw kava powder and get a big jolt of relaxation.
But unfortunately, this is a bad idea.
Consuming Raw Kava Root Powder
If you consume a typical dose of raw kava root powder (traditionally known as makas), you'll get solid effects from it. That is, of course, assuming you use a good kava like Dua Na Bilo we reviewed here, or the Nangol Noble from Bula Kava House.
The problem is that you'll also get some significant stomach upset, too. There's a reason that kava traditionally is not consumed completely. The root fibers are not digestible, and will cause stomach upset if you take enough of it. In Polynesia, some kava-makers will remove even the tiniest fibers they can find to get their drink to be as pure as possible.
The kava drink already tastes bad enough, there's no need to cause additional stomach upset and potentially… taste it again going back up.
Eew.
And that's not the only reason to avoid consuming raw kava powder. You are also much more likely to get kava dermopathy from consuming the raw makas. Kava dermopathy essentially consists of scaly, itchy, dry patches of skin. They commonly occur on the back and on the hands.
Alternatives to Toss and Wash
If you don't want to go through the hassle of traditional kava preparation, there are a variety of options you can choose to make kava without all the hassle.
AluBall
By far my favorite option is to use an AluBall. This contraption is essentially a protein-shake bottle with a tea infuser inside. You put your kava in the infuser sphere and shake it in the bottle with some water. It's easy, doesn't make a mess, and makes a kava that's plenty potent without all the kneading and all that.
You can use it with any traditional grid kava. Perfect! I've got an extensive Aluball review here.
Last update on 2023-08-28 / Affiliate links / Images from Amazon Product Advertising API
Instant/Micronized Kava
Instant kava is kava that is made and then dehydrated. When you add water to instant kava, it dissolves completely, and you don't need to filter anything.
Micronized kava is kava that is ground extremely finely, and most people don't suffer an upset stomach after drinking it. However, some people are still bothered by it. If you are one of those people, you can always put the micronized in an Aluball, though the vast majority of it will dissolve.
As an added complexity, many kava vendors use the words instant and micronized interchangeably, though they really are different products.
Last update on 2023-08-28 / Affiliate links / Images from Amazon Product Advertising API
Kava Candies
If you're just looking for a mild chill-out effect, these Kava candies are an outstanding option. They don't taste bad, and are the closest thing to authentic kava you can find that is in solid or extract form.
Last update on 2023-08-28 / Affiliate links / Images from Amazon Product Advertising API
---
What about Kava Supplements and Tinctures?
As many who are familiar with kava know, most kava supplements and extracts are pretty much garbage and are not a great alternative.
Conclusion
Kava toss and wash is not a good way to consume kava. If it was, the people who started consuming and cultivating kava thousands of years ago would have skipped the whole arduous process and just downed the stuff.
But they didn't, and instead they recognized that the experience of kava is best enjoyed with kava that has been filtered of the roots and fibers of the plant. No need for upset stomach, and no need for dermopathy.
By using an Aluball, or choosing an instant or micronized kava, the kava preparation process is greatly simplified. Making kava using these methods is much easier, and you'll be enjoying the pleasant kava buzz in no time!
Bula!